Tessa Blanchard has been a person under speculation around the professional wrestling industry for quite sometimes. She was fired from IMPACT Wrestling back in June and since then she's a free agent. The third-generation superstar is a gem on any given roster and WWE was undoubtedly interested in her.
But Tessa Blanchard is yet to sign a contract with the company, as of now. It was earlier reported how she was stuck in Mexico and didn't even bother to send promos for IMPACT Wrestling TV products as she was asked to do so. This was the reason why the company terminated her deal that was going to expire within a few weeks, anyway.
Update On Tessa Blanchard, Wikipedia Shows WWE Already Signed Her
Tessa Blanchard Spotted Training With WWE Superstar Sasha Banks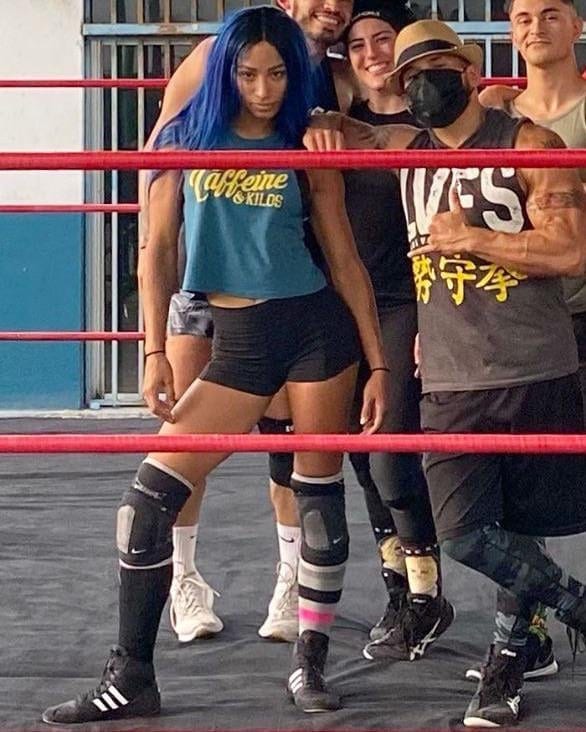 The future for Tessa Blanchard looks to be quite uncertain, as of now but the rumors of joining WWE have yet been fuelled up. A photo of WWE SmackDown Superstar Sasha Banks and Kalisto is going around on the internet in which Blanchard can be spotted in the back. It seems the Former Impact Wrestling world champion has been training together.
Since Tessa Blanchard was seen with two active WWE Superstars, the IWC has started spreading rumors about her joining the brand in the future.
In the last update, it was noted how WWE has sent out feelers for her. But, she hasn't signed with any promotion including WWE, as of now. She has started wrestling around the independent scene, though.
Tessa Blanchard didn't want to leave her home country of Mexico with the fear that she wouldn't be allowed back in as the coronavirus pandemic continues. She was then engaged to Daga, but the duo is now officially married. Her recent return to the ring to wrestle a match didn't end on a positive note she dropped a belt to Kylie Rae.
While giving a short update to her fans on social media, Tessa Blanchard released a statement via an Instagram post. She explained that her absence from the ring was due to her wedding and honeymoon. Now she wants to take back control of her own life.
"I've been away for a while, the main reason for that is to focus on my wedding & honeymoon. The past few months I've gotten back to the basics & been focusing on the relationships I have with family, friends & myself. The point of this post is because I'm taking back control of my narrative. I've had people weigh in on what I should do, what I should say, what interview to do, where to go.. now, I want to listen to what I want and what's in my heart."