This week's "In Your Face" edition of WWE RAW saw Asuka retaining the RAW Women's Championship against Mickie James. The match had an awkward finish, and afterward, the champion seems to have received a new challenger.
Mickie James vs. Asuka, the title match ended out of nowhere marking an awkward finish that saw the referee stopping it. Asuka had the Asuka Lock applied but her opponent never tapped out to the submission. But the referee declared that James was no longer able to continue the match.
Trish Stratus To Make WWE Return For A Match Against Sasha Banks
Update On Veteran Mickie James' Injury Against Asuka On WWE Raw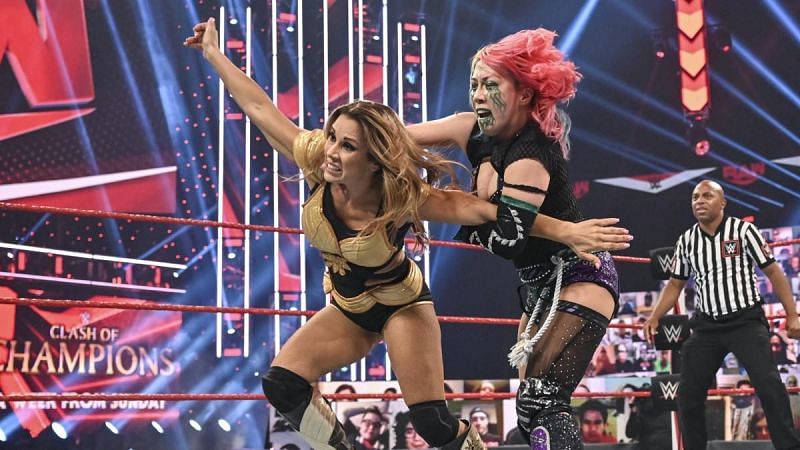 An injury scare broke out following WWE Raw around the six-time women's champion. But thankfully that wasn't the case. Bryan Alvarez of Wrestling Observer Live informed that Mickie James is not injured and that the awkward finish to the title match happened due to the referee botching the call as he thought James was hurt when she wasn't. James was rumored to suffering a shoulder injury while being in the Asuka Lock, but that is not the case and she is doing just fine.
WWE Diva Lana Threatens To Leave Social Media After Fans' Bullying
In an update, PWInsider also reported that the match was called off and the bell was rung, out of concern over Mickie James who was possibly knocked out on her feet due to the way she was selling the previous move from Asuka. It was noted that James just 'did an excellent job at selling that she was out of it, so much that she fooled people overseeing the match, including the referee.'
Different theories were available on the internet about the finish and Mickie's potential injury but she is absolutely okay. PWInsider also reported that the finish of the match was supposed to be Mickie James tapping out to the Asuka Lock. However, the referee called off the match early, making a botch and then told the ring announcer to say that Asuka won the match because her opponent could not continue.
WWE also presented their own storyline theory regarding the awkward match-ending with the below statement while Mickie James remains silent except for posting a picture on Instagram without a caption,
"Realizing that this could be her last chance at a championship, Mickie James left it all in the ring against The Empress of Tomorrow. But although Mickie James was ready for Asuka, Asuka was also ready for her. The Raw Women's Champion locked on the Asuka Lock, and despite James' best efforts to fight out, the referee ruled her unable to continue and awarded the match to Asuka."