Carmella claims herself to be the most beautiful woman in all of the WWE for a reason. Every time she comes out with her new music and entrance, she wears attires that are more than just gorgeous. It flashes a lot of skin and cleavages, literally forcing the fans to get mesmerized by her. She continues to do the same, every week on Smackdown and thereby garnering some attention.
As seen on Friday night's Carmella makes appearances in extremely hot attires which might not be always safe to wear during a match. Due to their short lengths, it comes up with the chance of causing a wardrobe malfunction, for sure. It's now proven as a disastrous happening that went down during a house show where the ex-challenger for the Smackdown Women's Title had to deal with a nightmare.
WWE Star Alexa Bliss Attends MLB Game; Meets Footballer Ronaldinho
During a live event in Pittsburgh, Pennsylvania, Smackdown Women's Champion Bianca Belair successfully defended her championship against Carmella, once again. Prior to the match, the challenger forced Smackdown announcer Greg Hamilton to mention her as the most beautiful woman in all of the WWE.
Carmella Says She's A Total Package In WWE To Shut Up Fan
As the match progressed, Belair and Carmella were tangling in a spot when suddenly the latter's tiny crop top tore down. The challenger took it, sportingly as she continued to wrestle with that torn top. She was covering her assets with her hand to prevent herself from getting fully exposed. Belair realized the disaster as she quickly hit the KOD finisher on Mella to end the match. You can check out the video given in the article.
Carmella reacted to the wardrobe malfunction
Carmella herself tweeted on the incident as she posted the following,
Y'all wish…… 👙

— Leah Van Dale (@CarmellaWWE) July 26, 2021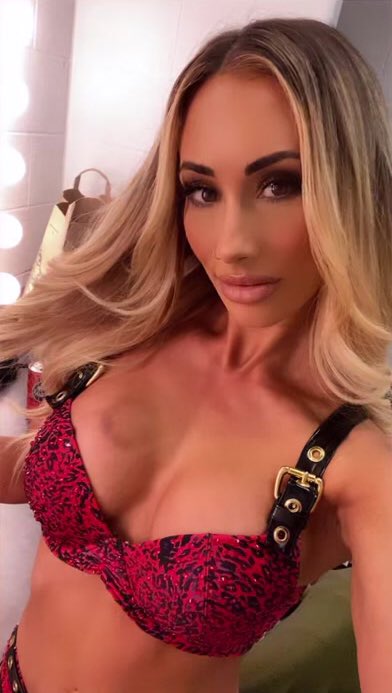 After Bayley went down with a torn ACL, WWE SmackDown Women's Champion Bianca Belair was suddenly without an opponent for the 2021 Money in the Bank PPV. WWE decided to move Belair's title defense to SmackDown against Carmella, two nights prior to the PPV event.
Six days of time for preparation wasn't enough for the challenger who got victimized by the champion. In a rematch from the Rolling Loud festival in Miami, Florida, Belair again defeated her current rival for the title which might have ended the program for good.