Drew McIntyre is all set to defend his WWE Championship against Bobby Lashley at Backlash on June 14. WWE has recently been building the challenger as a force to be reckoned with. As a result, the split-up angle between Bobby Lashley and Lana has already begun. WWE wants to build him up as a strong force once again so that he could live up to his All-Mighty moniker.
As reported previously, Drew McIntyre is an absolute favorite heading into this title match at Backlash pay-per-view. WWE sees him as the top babyface persona who would be running the red brand show in months to follow.
Betting odds also show that there're fewer chances available that Bobby Lashley ends up dethroning McIntyre from his championship reign. But could there be a twist in the tale?
WWE Backlash Match Card With Predictions: June 14, 2020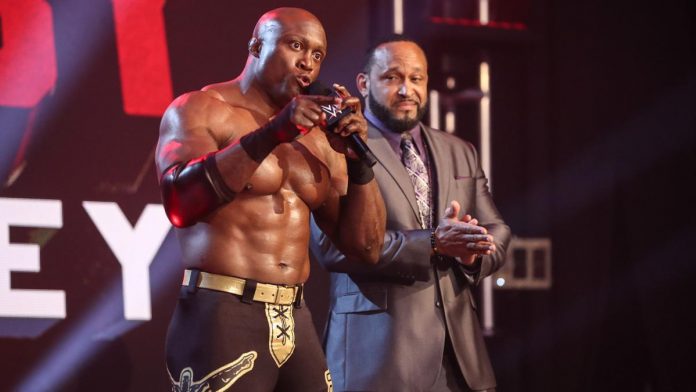 The Wrestling Observer is reporting that there's a big reason MVP and Bobby Lashley were put together. The former Executive Director of RAW, Paul Heyman, wanted MVP to be the manager of a future Champion.
"Heyman wanted [MVP] as Lashley's mouthpiece for a title run."
So the bottom line is that Bobby Lashley is penciled in to have a title run in the near future, perhaps the first world title run in WWE.
This could be an indication that Bobby Lashley still has a slight chance to win the WWE Championship at Backlash. A title win for the veteran superstar in the pro-wrestling circuit could fetch big attention from the audience especially at this point when nobody sees him as a potential world title winner.
WWE Backlash 2020: No Title Change Happening At The PPV Event?
It was added that even if a WWE Championship run isn't in store for Bobby Lashley, he should end up winning another title in the upcoming months so that his tie-up with MVP could be fruitful.
Also, the much-anticipated match against Brock Lesnar could be in store for him, this summer. While speaking with Alex McCarthy of talkSPORT, The Dominator talked about becoming the world champion, at some point,
"I definitely want to win a world title. I definitely want to," Lashley said. "The years that I've put in the business and the matches I've had with so many different people, I definitely want to.
But another thing I want to do, and I hope this is not shooting myself in the foot or kicking myself in the butt, but when I first got in the wrestling business and I was first starting out, there were guys like myself who were a bit older in the business." (courtesy wrestlingINC.com)