Mark Waugh, former Australia batsman believes 'there are only two choices' as Australian skipper– former skipper batsman Steve Smith and pace all-rounder Pat Cummins.
Australia may not have played any cricket since losing the home Test series to India earlier this year but the resurgence of Sandpaper Gate and the never-ending debate around who should take over Australia's Test captaincy from Tim Paine has made sure they have always hogged the limelight.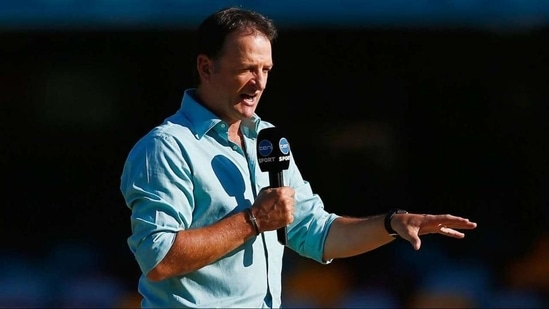 Mark Waugh: There Are Only Two Choices As Captain- Pat Cummins And Steve Smith To Take Over When Tim Paine Finishes
Despite there being no formal announcement from Cricket Australia or any indication of quitting from current Test captain Tim Paine, former Australian cricket and experts are more or less certain that it is only a matter of time before the keeper makes way for a new captain for Australia's recent Test series loss to India and age of Tim Paine.
"I think when Tim Paine finishes, which could be after the Ashes, I think there are only two choices: Pat Cummins and Steve Smith," Mark Waugh told Fox Cricket's Road to the Ashes Podcast.
Steve Smith was the captain of Australia in all three formats when the Test match against South Africa back in 2018 rocked Australian cricket. Steve Smith, David Warner, and Cameron Bancroft's involvement in the ball-tampering episode kept them away from cricket for a year (9 months in the case of Cameron Bancroft).
Steve Smith was stripped of his captaincy and it was announced he won't be considered for the leadership role for at least two years. Times have changed as Steve Smith, who is Australia's best Test batsman, has made a strong comeback to the side and presented himself as one of the frontrunners to take over from Tim Paine.
Mark Waugh Belives Pat Cummins Is Favourite To Be Assigned Captain
Mark Waugh, however, believes Pat Cummins' rapid rise in international cricket makes him 'favourite' to be the next Australian captain.
"That's our field of choices and I don't think the selectors will steer too far clear of that. There are no other candidates from what I can see unless someone jumps out of the ground. But I'd say Pat Cummins is favourite to be captain, Steve Smith vice-captain," Mark Waugh said.
Tim Paine has led Australia's Test side with distinction, but with the wicketkeeper-batsman will be turning 37 by the time he captains in the Ashes series against England at the end of 2021, as a clear succession plan would be required.
Few players have better credentials to succeed him than the 31-year-old Steve Smith but it has been fast bowler Pat Cummins who has been nurtured in the past as Australia's vice-captain and he has been handed the one-day captaincy of New South Wales this season.
Meanwhile, Australia's Test team will next meet Afghanistan in November this year. The clash will be followed by Ashes 2021-22, which takes place on Australian soil. As of now, Tim Paine is quite certain to lead the Aussies in the crucial series against England but things can change after the conclusion of the five games.