Virat Kohli is unarguably one of the greatest players of this generation having scored a lot of runs and leading India from the front. One wouldn't find too many players as popular as him. It wouldn't be an overstatement to say that he is a brand himself.
His stature has resulted in him grabbing the headlines, no matter what. Thus, this has prompted everyone to keep observing him. The media and cameras always have a close look at each and every move that he makes on the field. His fierce spirit just adds fuel to the fire. As Virat Kohli has had a huge history of getting involved in sledges intentionally or unintentionally, he has been a part of several arguments on the field.
Virat Kohli: 10 Famous Sledges From Current Indian Skipper
10) Virat Kohli and James Anderson in 2021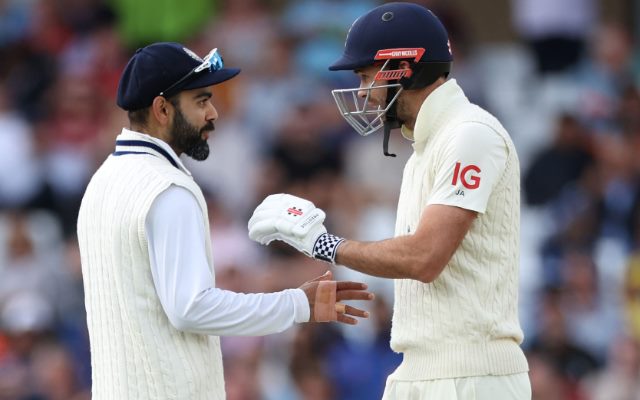 Tempers flared between the duo on the fourth day of the second Test between India and England at Lord's. During India's second innings, India's superstar skipper and England's superstar pacer had a verbal spat at the non-striker's end. The two had a go at each other thrice in quick succession.
Everything started a day earlier as on Day 3 when pacer Jasprit Bumrah welcomed the English pacer with several fiery bouncers. James Anderson seemingly didn't like it and In reply, Virat Kohli had a go at James Anderson the next day by telling him that this wasn't his backyard.
In the second Test match, England speedster James Anderson had to face a 10-ball over from Jasprit Bumrah. The Indian pacer struck with a barrage of bouncers to James Anderson in search of his first wicket of the match. He survived the spell of Jasprit Bumrah but eventually lost his wicket to Mohammed Shami.
The first Test of the five-match Test series between India and England was drawn, and then India won the second Test. After which England won the third Test and then Team India won the fourth Test to take a 2-1 lead before the final Test got called-off due to Covid-19 scare.
9) Virat Kohli and Tabraiz Shamsi in 2018
The year 2018 belonged to the Indian skipper. While he was scoring runs for fun back then, he also sledged Tabraiz Shamsi. It was the Proteas spinner who first had a go at Virat Kohli while he was batting. The Indian captain wasn't the one to hold back and thus, gave Tabraiz Shamsi a taste of his own medicine when Tabraiz Shamsi came to bat. He kept asking him if he had his chest pad on.
The Proteas bowler barely lasted a ball as he got out while attempting a big shot off Kuldeep Yadav. India went on to win this series 5-1 and Virat Kohli went on to win the player of the series award. The batting maestro scored three centuries in this ODI series as well.
Former Royal Challengers Bangalore (RCB) teammates Virat Kohli and Tabraiz Shamsi had a go at each other during India's 73-run win over South Africa. Tabraiz Shamsi was seen sledging the Indian skipper during the latter's 36-run innings in the 5th ODI at St. George's Park.
8) Virat Kohli and Steve Smith in 2014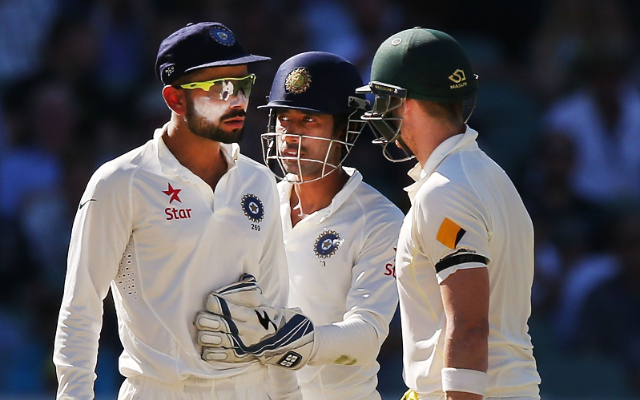 Steve Smith and Virat Kohli are unarguably the biggest names of cricket currently. Seldom would one find a rivalry as iconic as the duo. However, this incident took place before the two of them became absolute legends of the game.
This happened during the Border-Gavaskar Trophy 2014/2015 where Steve Smith was smashing Indian bowlers to all corners of the park. When Rohit Sharma was bowling to the Aussie superstar, the ball hit his pads and he appealed only to get absolutely no response from the umpire. Despite that, Rohit Sharma continued to appeal to which Steve Smith got frustrated. This frustrated Virat Kohli who went to the Aussie and started to argue with him.
The RCB captain even went on to tell Steve Smith to "Stay in his limits" which the Aussie batsman seemingly ignored. David Warner then tried to curb the situation and pacified the two, this was the beginning of a new era between two of the greatest players of the 2010s as their rivalry managed to get the best out of them.
In the match, the Indian captain along with his teammates' pacer Ishant Sharma and batsman Shikhar Dhawan, was involved in a heated exchange with David Warner and Steve Smith. Officiating umpire Ian Gould recently compared the final three days of that Test to a 'war' as things spiralled out of control due to the cricketers' constant chirping on the field.
7) Virat Kohli and Mitchell Johnson in 2014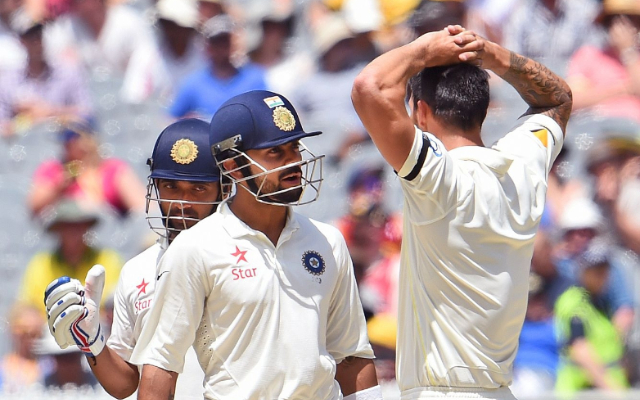 This incident occurred in the same series where Steve Smith and Virat Kohli had an argument. The Border-Gavaskar Trophy 2014/2015 was famous for the number of ugly incidents it had.  The "Fire meets fire" phrase would perfectly describe this situation. India's No. 4 batsman in Tests arrived on the crease after the dismissal of Cheteshwar Pujara and was welcomed by the Australian pace attack with a lot of short balls. Suddenly, an instance on the field happened that attracted a big controversy.
The Indian skipper played the ball towards Mitchell Johnson, who soon picked the ball and attempted a non-existent run-out. However, the ball directly hit Virat Kohli, who looked in pain. Both of them suddenly got riled up after this and a few words were exchanged between the two. India's tour of Australia in 2014 saw Virat Kohli's rise to the top.
The right-handed batsman just didn't smash Australian bowlers, but also took over as full-time Test captain by the end of the series. Leading the team for the first time in Test cricket – MS Dhoni missed the opening Test due to an injury – Virat Kohli started the tour with twin centuries in Adelaide. The vice-captain had a tough outing in Brisbane but bounced back with a gutsy 169 in Melbourne.
6) Virat Kohli and Tim Paine in 2018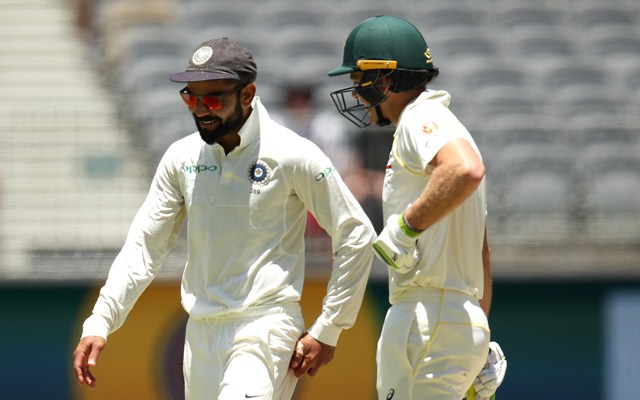 On Day-3 of that game, Tim Paine was on the strike when the Indian skipper said, "If he messes it up, it's 2-0 in the series."
This didn't sit well with the Aussie skipper as he came out all guns blazing the next day in order to give it back to Virat Kohli. Things got ugly on the field and a lot of inappropriate words were exchanged between the two skippers.
At one point, the on-field umpire Chris Gaffaney had to come in between the two players in order to separate them. Moreover, he reminded both the players that they are the skipper of their respective sides. Virat Kohli then gave Tim Paine a long send-off after the Aussie wicketkeeper was dismissed. Tim Paine then ended up sledging again in the 4th innings as Australia went on to win the match by 146 runs.
On day four of the second Test at Perth, Virat Kohli and his Australian counterpart Tim Paine were involved in a verbal spat. This happened after Virat Kohli had celebrated a couple of Australian wickets a bit more animatedly than usual. That was time Tim Paine thought he had enough.
5) Virat Kohli and Kesrick Williams in 2019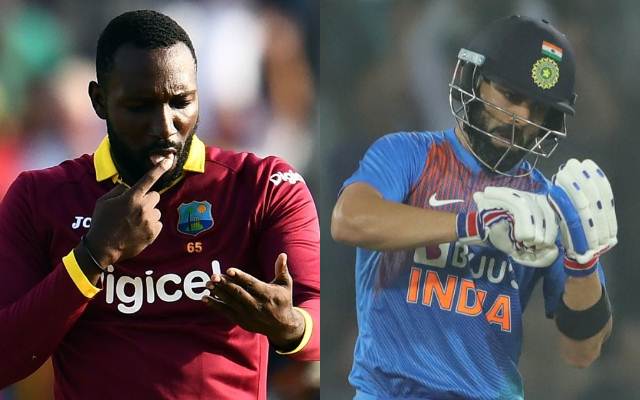 After Kesrick Williams dismissed Virat Kohli in a T20I match in 2017, he did his trademark notebook celebration. Virat Kohli did the same in 2019 after hitting Kesrick Williams in the first T20I. He had hit the Windies pacer for three sixes and a four. The Indian captain later clarified that he meant no disrespect.
"Williams had given me the notebook when he dismissed me in Jamaica, so I remembered it from there. We gave each other a high-five later. Play hard but respect the opponent," Kohli said after the match. One can watch this moment over and over again!
Virat Kohli took apart Kesrick Williams during a T20 series in India in 2019, even mimicking the bowler's celebration from India's 2017 tour of the Caribbean. The two first came face—to—face in 2017 when Kesrick Williams used his signature 'notebook celebration' after dismissing Virat Kohli during a contest in Jamaica.
Fast—forward two years and Virat Kohli took apart Kesrick Williams during the T20 series in India in 2019. He smashed an unbeaten 94 off 50 deliveries in Hyderabad and during his innings, also mimicked Kesrick Williams' celebration.
4) Virat Kohli and Ollie Robinson in 2021
This is the most recent amongst all the incidents featuring Virat Kohli sledging the opponents. However, unlike the previous one, this was an absolutely "No Nonsense" scenario as the Indian captain seemed pretty furious while sledging Ollie Robinson.
The fifth and final day at Lord's was an absolute cracker of a contest, to say the least. After England had a batting collapse, they needed to save the Test match with three wickets in hand. Ollie Robinson was the batsman and Virat Kohli had a go at him. Virat Kohli's voice got recorded on the stumps mics and a Twitter user shared the video.
Indicating to Ollie Robinson, Virat Kohli said, "Pujj (Pujara), How boring was your innings? Maybe, that's how you survive in a test match." Calling Robinson "big mouth," the Indian skipper said, "Come on, Gonna bring your sheets today?"
At that point of the match, India needed 3 wickets to bring the game home. Referring to Cheteshwar Pujara's 206-ball 45-run knock, Virat Kohli passed a nasty comment to sledge Ollie Robinson during the fourth innings of the game. Cheteshwar Pujara's 100-run stand with vice-captain Ajinkya Rahane in the second innings played a vital part in India's win.
3) Virat Kohli and Rubel Hossain in 2011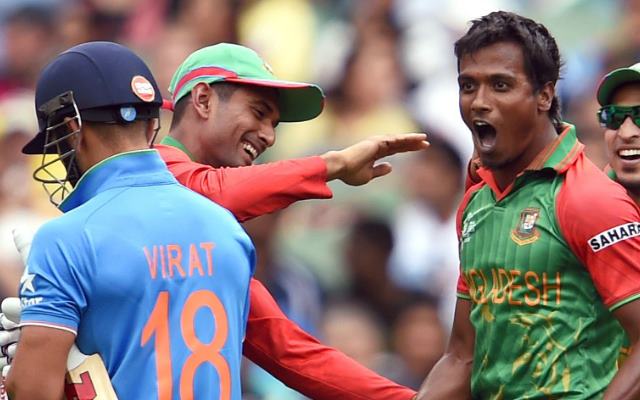 Virat Kohli was just a talented star and not an all-time great back in 2011. However, even back then, he never held himself back and always spoke his mind out on the field. This aforementioned incident occurred in the opening match of the World Cup (WC) in 2011, which was later won by India ending a 28-year-old hiatus.
Virat Kohli and Bangladesh pacer Rubel Hossain were rivals since their U-19 days and continued it in the 20211 World Cup. They had a heated moment during the 2011 WC. Virat Kohli was seen abusing the Bangladesh seamer after defending a ball off him. The then youngster abused him and asked him to get back to his bowling.
The Bangladeshi pacer, later on, went to reveal that Virat Kohli used to sledge a lot, even during his U-19 days. Both of them played together in the 2008 U-19 World Cup in Kuala Lumpur in which Virat Kohli led India to victory and thus, began his legacy. Virat Kohli made 282 runs in 9 matches in the 2011 World Cup. He hit an unbeaten 100 in that game against Bangladesh.
2) Virat Kohli and Brad Haddin in 2014
As mentioned earlier, the Border-Gavaskar Trophy 2014/15 had a lot of sledging. However, this incident involving Virat Kohli and Brad Haddin tops all of them.
The engaging verbal dual between the two occurred during the fifth and final day of the third cricket Test at Melbourne Cricket Ground. While the Indian batsman was batting, he survived a run-out chance.  After the incident, Brad Haddin started saying "It's all about you. It's all about you" while clapping his hands in Virat Kohli's direction.
Virat Kohli appeared to gesture in the direction of the umpires, apparently in protest of the Australians' needling which was audible on Channel Nine's stump microphone. Virat Kohli then continued it when the Aussie wicketkeeper walked out to bat with the game in the balance. As Brad Haddin asked for and marked centre, a chirpy Virat Kohli shadowed the batsman in a fashion more commonly associated with AFL taggers. A total of four misconduct fines were dished out in the opening two Tests.