Stephanie McMahon is a colorful character when it comes to WWE TV. Be it the sweet little daddy's girl or an obnoxious heel persona or an authority figure, she has done it all, taking forward her family legacy. While doing so, she had to get involved in a number of relationships on TV while flourishing her on-screen persona.
It's to be noted that her love storyline with Triple H started in the late 90s and they soon began dating each other. Within a couple of years, they got married but in the meantime, WWE involved the Billion Dollar Princess in some random romantic angles that needed her to go kiss them just to do justice to WWE's non-PG rulebook.
Stephanie McMahon Said 'You Kiss Like A Damn Fish' To WWE Hall Of Famer
6 WWE Stars Stephanie McMahon Kissed Other Than Triple H
Thus, we present six WWE Superstars who had the honor of kissing Stephanie McMahon other than her real-life husband Triple H.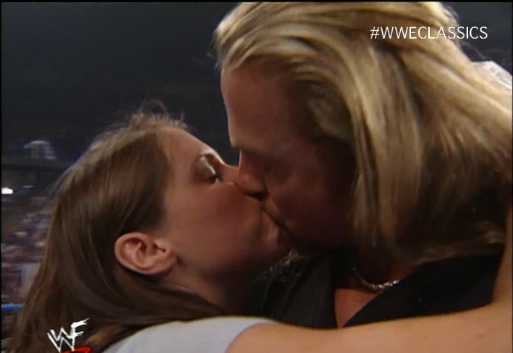 Test
Before getting hooked up with Triple H on TV, Stephanie McMahon entered in a romantic angle with Test. The duo was paired up on-screen that drew ire her brother, Shane McMahon who was involved in a feud with Test. At one point, Test got down to his knees for a young billion-dollar princess who said yes. This had to lead to a big smooch inside the ring. The pair had a fairytale wedding planned but it was eventually ruined by Triple H.
Rikishi
In what appeared to be one of the most disgusting storylines on WWE TV, Stephanie McMahon was forced upon by her backup Rikishi. On WWE monthly Pay-Per-View, Unforgiven 2002, Steph, the SmackDown GM had to involve in some Hot Lesbian Action as per a match stipulation. One of the huge Lesbian figures that appeared in the ring was Rikishi in disguise with whom Stephanie had to make out. Later, Rikishi turned on Bischoff to put him down and had a dance-off with McMahon inside the ring.
WWE Flashback: John Cena Had Fun Experience With Stephanie McMahon