CM Punk has recently been interacting a lot with the fans. During a Q & A session on Twitter, he noted about Edge's current WWE run. He answered to be really happy for him while also mentioning that he's jealous of the abs that the Rated R Superstar currently possesses. On another note, the Second City Savior let us know about a feud that never happened on TV.
As asked by a fan about WWE's plans for a feud between CM Punk and Chris Benoit, the former WWE Champion noted whether he was going to go over.
"What was the plans for your match with Benoit? Were you going to go over? @CMPunk" was the question thrown by the fan.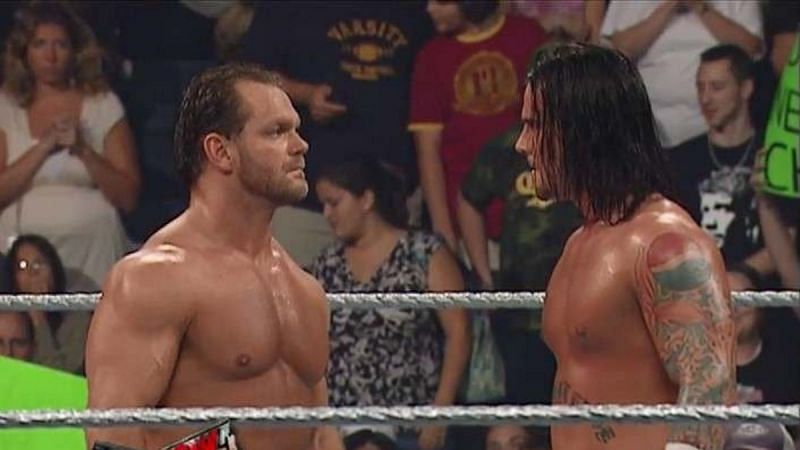 In reply, he said that he had no idea about the plan of the WWE creative and the only plan he knows is for the two of them to beat the 'p*ss' out of each other. The below reply indicated that the two of them was supposed to undergo quite the physical feud on Raw.
"No idea. All we talked about was beating the piss out of each other."
What was the plans for your match with Benoit? Were you going to go over? @CMPunk

— Chris Mattingly (@cmattingly97) February 12, 2021
CM Punk had a feud with Benoit at ECW
CM Punk was supposed to face Benoit in the Finals of the ECW World Heavyweight Championship Tournament at WWE Vengeance: Night of Champions on June 24, 2007. However, that match never happened as Benoit had passed away on that same day in perhaps the most controversial death in the history of the professional wrestling circuit. It even affected Vince McMahon's own death storyline.
CM Punk is still very bitter about the rocky relationship he had with the WWE leading to the departure from the company, seven years ago. He's not likely coming back to action, ever again. The former Straight Edge Leader has recently paid tribute to the late Hall of Famer Harley Race with his new tattoo. This is what he had to offer about his friendship with Harley, who passed away in 2019,
"Harley Race was booked to referee a match I had, seems like a lifetime ago. Never figured a friendship would blossom out of it. Never thought too much about why Harley liked me, I just sorta enjoyed it.
There was a time when all I cared about was wrestling and having his stamp of approval was everything. He taught me how to make a blade. He booked me and @acesofsteel on shows we would've worked for free simply because he was Harley Race.
Was an honor to know him. Fortunate to have been friends with him, and I'm one of the lucky ones that can say he mentored me and made me better.
We raise a shot of milk, for the boss!"