Tensions raised between Lacey Evans and Kayla Braxton during the most recent episode of Talking Smack on the WWE Network. Since Evans decided to go below the belt, it was speculated whether this was a trial of a future feud. But Braxton says she's not willing to go physical in the ring.
Talking Smack saw Lacey Evans taunting the show host referring how she can't "keep a man." This blow appears to be a reference to a recent post by Braxton on Instagram, where she talked about getting engaged to be married, but then he walked away from the relationship before the wedding.
Lacey Evans Takes Verbal Shot To WWE Host Over Relationship Problems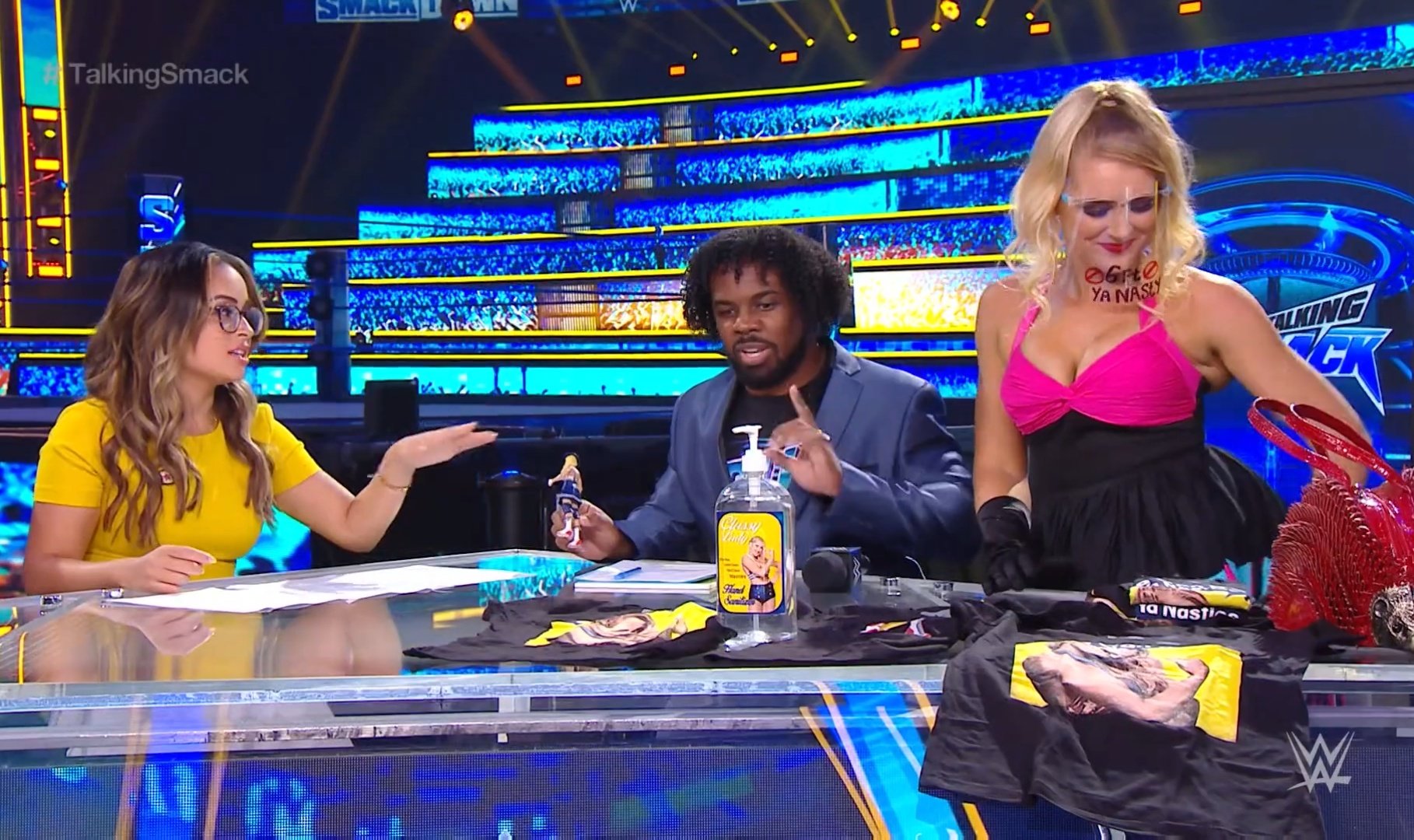 The sparkle of heat commenced between Lacey Evans and Braxton began as the guest came out to the panel where co-host Xavier Woods was present. Braxton mentioned how Evans mocked short people during SmackDown. She also brought up her recent losses on TV. Evans tried to prove a point on how she should have her own talk show in WWE, so she can make people realize how a real lady is supposed to be.
Lacey Evans appeared on Talking Smack following Friday's SmackDown, which saw her losing a match to Nikki Cross after appearing on "A Moment of Bliss" with Cross and Alexa Bliss. The post-match angle had Evans mentioning "The Fiend" which then sent Bliss into a trance. Bliss then ended up dropping Evans at ringside with Bray Wyatt's Sister Abigail finisher.
Lacey Evans Death: WWE's Lady Clarifies Strange Rumors On Her Life
Lacey Evans blasted Braxton over this mention saying, "Because people like you get your feelings hurt, honey. Which is yet again why you need Lacey Evans."
Evans continued to rant how her shortcomings on SmackDown shouldn't be mentioned, and why she should get her own show.
"I got dinner to cook, for my husband," she laughed while leaving the set, making a jab at Braxton and her relationship failures.
Braxton then stated to Woods, "Xavier, I'm sorry you had to witness that. It's been, like, an ongoing thing with her."
Lacey Evans: Journey of A Military Woman To Become Lady Of The WWE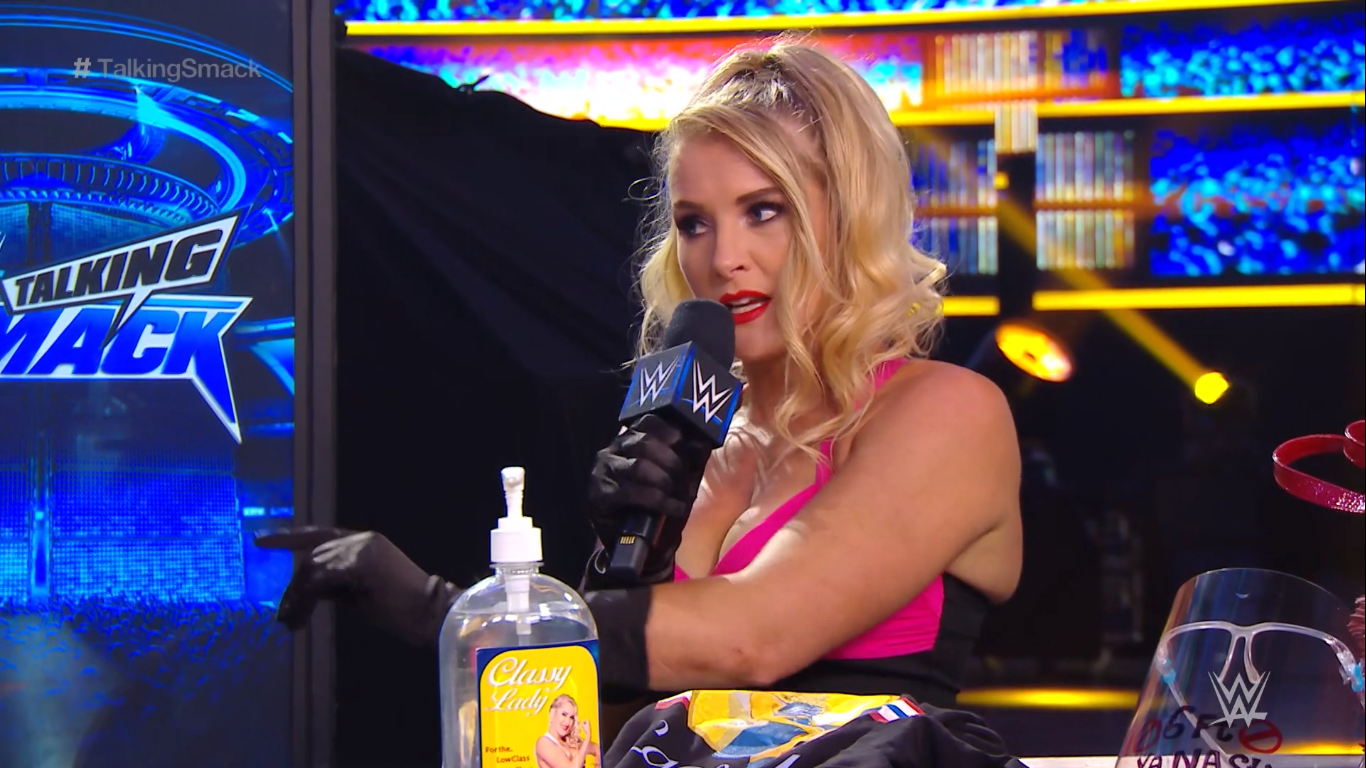 Woods then suggested Braxton to possibly start training for a match with the Sassy Southern Belle,
"The level of uncomfortable," Woods said. "I'm ready to see y'all fight now, at this point. Kayla, I'm telling you, I think it's time. Let us train you up some. You're probably sick with the hands, come on."
"Don't put that out there, OK? I will not disrespect her when it comes to her in the ring. There's not a chance. No," Braxton dismissed the idea.
It should be noted that Lacey Evans' original relationship jabs at Braxton were directed due to a September 10 post on Instagram, about her former fiancé and their engagement. Braxton also previously mentioned how she's been single for more than four years.
No update is available on whether there's any real tension is existing between Braxton and Lacey Evans, or if this is just a part of the Talking Smack storyline. It should be noted that this is not the first time the two have had back & forth around social media.
"Wearing a grandma sweater doing a bunch of nothing anyways" 😂 I love @LaceyEvansWWE PS did @KaylaBraxtonWWE ever get you your Bumpy? pic.twitter.com/kQ2IOUJLJn

— Lacey Evans Fan (@LaceyIsALegend) August 13, 2020
Get the latest news and updates from Indian Premier League, ICC World Cup 2019, Match Prediction & Fantasy cricket. Follow SportzWiki for all cricket news, WWE News & Sports News.