Roman Reigns is the reigning Universal Champion who is unarguably having the best run of his career. Reigns turned heel after the return at SummerSlam, last year. This change in character was much-needed for him considering the number of boos he has been receiving from the fans even when he was the top babyface star of the roster.
For several years fans have been wanting Roman Reigns to turn heel by actively letting the WWE officials know that he's not a fit as a babyface. Despite all the backlash, the head-honcho Vince McMahon didn't turn Reigns heel. He had his own reasons behind the move as he always thought of the Samoan as the franchise player of the company.
Clarification On Tessa Blanchard Signing With AEW Instead Of WWE
While speaking on The Masked Man Show, former WWE writer Brian Gewirtz discussed Vince McMahon's mindset when it came down to turning Roman Reigns into a heel. The Boss was reluctant in pulling the trigger on the multi-time champion as he saw him to be the poster boy, much similar to John Cena who carried the company on his shoulder for more than fifteen years.
"When it came to Roman [Reigns], the model was John [Cena], right? Because there were plenty of times when the writers would come in and be like, 'Can we just turn John heel?' With the, 'Let's go Cena, Cena sucks. Can we do it? Can we pull the trigger?' And it was something Vince [McMahon] never wanted to do."
Finn Balor Thinks Randy Orton Can Help WWE NXT Roster
"I think the problem was I think he took that approach with Roman as well. I think it was the, 'Don't listen to people, trust your gut, Roman's a babyface, he's the new face of the company. At some point, obviously that mindset of, 'We gotta keep Roman babyface, we gotta keep John Cena babyface' shifted and in this particular case, it's like similar to when [Hulk] Hogan turned heel in WCW."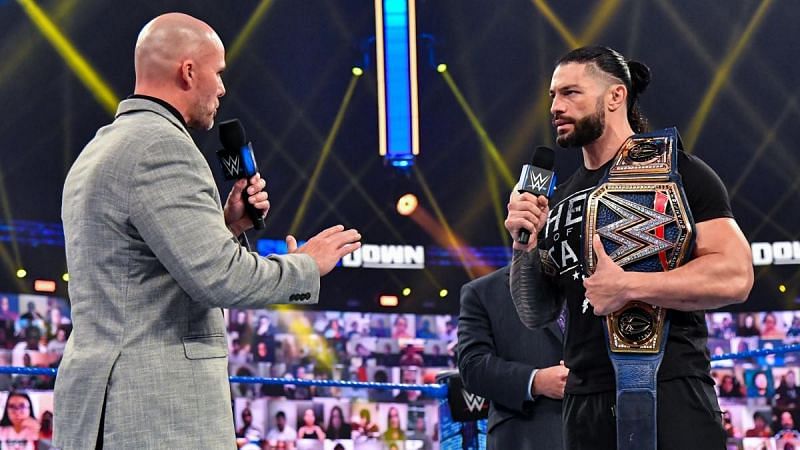 Vince McMahon wanted a similar strategy for Roman Reigns to that of John Cena
Gewirtz further said that Vince McMahon obviously didn't listen to the writers when it came to turning Cena heel in the earlier days. Thus, the Cenation Leader went onto becoming perhaps the biggest Superstar in WWE history and the last franchise player of the company. McMahon had similar thinking about Roman Reigns, too but things obviously didn't work out well for him.
Roman Reigns will be seen defending his Universal Championship at WWE Elimination Chamber PPV. During Wrestling Observer Radio, Dave Meltzer already noted that he was originally slated to defend the Universal Title inside the chamber, but those plans changed. The WWE Title is being defended inside the Chamber while the SmackDown side will produce a new number-one contender for the title.