Joe Root praised both the fighting qualities of his England team, and the resilience shown by West Indies – in particular their indefatigable captain, Kraigg Brathwaite – as the second Test in Barbados finished in stalemate on the fifth day.
After a feisty declaration, led by another sparky cameo of 41 from 39 balls from Dan Lawrence, England briefly held out hopes of bowling West Indies out as they slipped to 65 for 3 at tea, in pursuit of a nominal target of 282.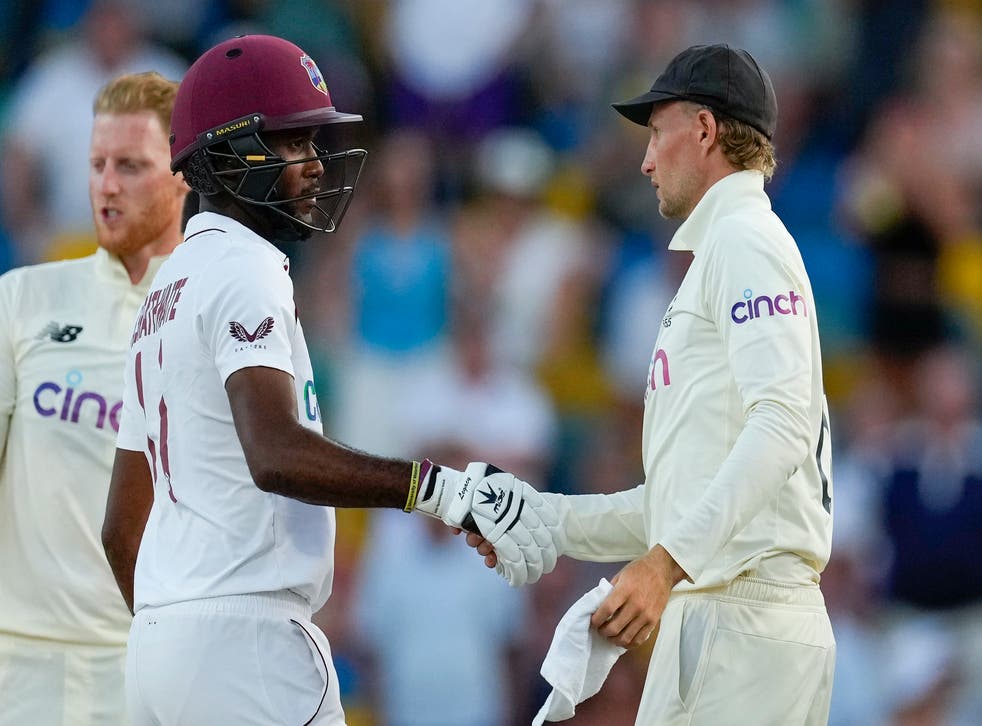 Joe Root Praised Kraigg Brathwaite For Playing Brilliantly In Both Innings As The West Indies Skipper Scored 160 And 56*
However, Kraigg Brathwaite picked up where he had left off in his first-innings 160 with another unyielding inning of 56 not out from 184 balls. In so doing, he finished the match with a tally of 216 runs from 673 balls – eclipsing the 582 balls that Brian Lara faced in making 400 not out in 2004 as the longest any West Indian has ever spent at the crease in a single Test match.
"It was annoying how good he was," Root said. "He (Kraigg Brathwaite) played brilliantly in both innings and didn't give us many opportunities. He had a clear game-plan and stuck to it very well.

"It's frustrating but there's a lot of respect for the way he went about it. Credit to West Indies, they fought very hard in two brilliant Test matches, and it should be a brilliant final one of the series."
Kraigg Brathwaite, the player of the match, admitted he had not been aware of the scale of his achievement until he returned to the West Indies dressing-room at the end of the match, having batted for a total of 15 hours and 45 minutes across his two innings, and been on the field of play for all but 21 overs.
"I heard it when I went in, that's amazing to hear," he said. "Obviously I've put in a lot of work over the years, and to do it at home is a quite pleasant feeling, especially having family here, so I'm very happy and thankful."
However, when asked if West Indies might have taken a more proactive approach to their first innings, having kept England in the field for 187.5 overs,
Kraigg Brathwaite
insisted that his team was focused on "learning on the job", having not won a Test in ten attempts since February 2021, and that they would not necessarily look to up their tempo for next week's series decider in Grenada.
"It was good that, after England put up 500, we as a team could fight and put 400 back," Brathwaite said. "That's the attitude we want, and the fans want to see. Once you continuously have the right attitude, our Test [results] will go up."
England also have won just one Test out of their last 16. However, Joe Root singled out Dan Lawrence – who starred with the bat in both innings, as well as with the ball and in the field – as a particular example of the strides the team has made.
"I think he's been wonderful," Joe Root said. "One of the most pleasing things is how selfless he's been throughout this series. He's always tried to put the team first"
England have now made five centuries in the series, with Joe Root making his second of the series in Barbados alongside Ben Stokes' first for 18 months. Dan Lawrence, however, might have added three figures of his own in this match, had he not had a rush of blood in the final over of the first day, when he holed out to cover for 91.
"It was just really pleasing to see us make a substantial first-innings total for the first time in a long time," Root added, after England had declared on 507 for 9.  "So long may that continue. The guys have gained a lot of confidence from it and hopefully we can replicate it again, and again, and again."
Joe Root also praised England's two debutant seamers, Matt Fisher and Saqib Mahmood, who stuck to their tasks well across both innings. In the first innings, Matt Fisher had picked a scalp of John Campbell while Saqib Mahmood took 2 scalps in both innings.
"I think they were brilliant," Joe Root said.
The unresponsive nature of the surfaces could tempt England into a fourth debutant of the series, if the leg-spinner Matt Parkinson comes into the side in Grenada.
Joe Root Pleased With Jack Leach's Performance In The Test
Joe Root, however, insisted that their incumbent spinner, Jack Leach, had done everything asked of him in ploughing through for the remarkable match figures of 94.5-40-154-5, the heaviest workload by an England bowler in 60 years. Jack Leach sent down 69.5 overs for his 3 for 118 in West Indies' first innings and he added 3 for 36 off 25 overs in the second.
"We'll have to see what kind of wicket we get, and weigh what we think is the best way to take 20 wickets," Joe Root said. "But it's really pleasing to see Jack play the way he has."
After consecutive declarations, England have twice run out of overs in which to turn the screw on West Indies. Joe Root conceded he "could have been braver" about the equation he left in
Barbados
, of 282 runs in 65 overs.
West Indies 411 (Brathwaite 160, Blackwood 102) and 136 for 5 (Brathwaite 56*, Leach 3-36) drew with England 507 for 9 dec (Root 153, Stokes 120, Lawrence 91) and 185 for 6 dec (Lawrence 41)