MSK Prasad, whose stint as the BCCI chief selector came to an end after the 2019 World Cup, often faced questions regarding him being overshadowed by India captain Virat Kohli and coach Ravi Shastri.
For a large part of his tenure as chief selector of the Indian cricket team, MSK Prasad brought several new prominent youngsters to Indian cricket – including the likes of all-rounder Hardik Pandya and dashing keeper Rishabh Pant, both of whom have proven to be match-winners for the team.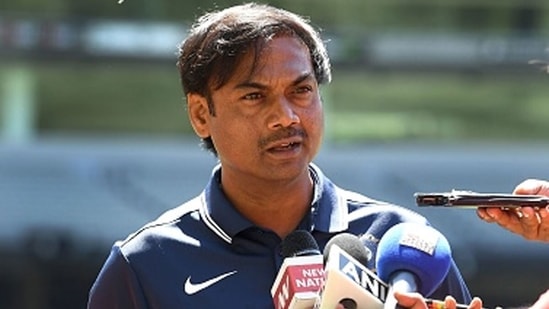 MSK Prasad Asked If There Was A Perception That He Was Too Humble In Front Of Ravi Shastri And Virat Kohli
In a recent interaction, MSK Prasad was once again asked about the perception that he was "too humble" in front of Virat Kohli and Ravi Shastri.
"There was a perception that you were too humble in front of someone like Ravi Shastri and Virat Kohli. People can't imagine how you could win arguments against such aggressive professionals?" MSK Prasad was asked in an interaction on cricket.com.
In response, the former India wicketkeeper-batsman revealed that he often engaged in arguments with both Virat Kohli and Ravi Shastri, but added that all of them are professionals and understand the role they needed to play for the benefit of the team.
"You ask them what kind of arguments we had. Sometimes, we didn't want to see each other (after meetings) but the beauty of them is that the next morning when we would meet, they would recognize and acknowledge that there is (merit in the) point we made," MSK Prasad revealed.

"I am a management student and know how to manage. People want me to blame someone publicly? Why should I do that because it is my family? I may like or dislike decisions even at home in my family but can I come out and say something publicly?" MSK Prasad added.
The 46-year-old was often criticized for his decisions as he was not an experienced campaigner on the international circuit. The wicketkeeper-batsman's 23 international appearances included six Tests and 17 ODIs with a solitary half-century.
MSK Prasad: Just Because Indian Team Management Didn't Have Differences Publicly Doesn't Mean Succumbing To The Duo Of Virat Kohli And Ravi Shastri
India's former chief selector MSK Prasad in a recent interaction revealed that he used to have arguments with skipper Virat Kohli and head coach Ravi Shastri. MSK Prasad has often been criticized for the decisions he took during his tenure which includes picking Vijay Shankar over Ambati Rayudu in World Cup 2019 squad to Yuvraj Singh's ouster after Champions Trophy 2017.
During MSK Prasad's tenure, many young talents including Hardik Pandya and Rishabh Pant joined the competition in the senior team. Even, Jasprit Bumrah got the chance in the Test team following which he enjoyed success with the red-ball too.
"Virat and Ravi will tell you about that (how we used to have heated debates). Just because we didn't have differences publicly doesn't mean that we were succumbing to them. Who knows how we have convinced them on so many issues," he signed off.
MSK Prasad did not reveal the details of the arguments but said that in the end, the two sides acknowledged the points each other made.
One very disturbing trend in his tenure was the lack of predictability in his selection pattern. There were haphazard chopping and changing of the squad, across formats, amid a few allegations that players were not informed of the reason behind their exclusions.
The first in his tenure was Karun Nair, the man who notched up 303 runs against England at home before he lost his spot in the Indian Test team and did not get a recall despite decent knocks in domestic cricket. Limited-overs cricket too witnessed the same in the buildup to India's World Cup 2019 preparations.
Ambati Rayudu was constantly backed as India's No.4 batsman for the tournament. And after a stretch of only 14 innings, Ambati Rayudu incurred a failure, against Australia at home, and he was eventually dropped from the ODI team. Vijay Shankar, who had only made his debut a few months back in January 2019, found his name on the World Cup list.