Wrestlemania season has already seen a major call-up on the main roster from WWE NXT. But given by the tradition, at least one more could be in store in the post-Mania episodes of WWE Raw and Smackdown. Often WWE brings these names from the black and yellow brand without having much plans around them. We can only hope that won't be the case for the next arrival.
Rhea Ripley was originally called up during the Royal Rumble weekend but with WWE's recent lack of creative planning, it took them a few months to figure out what to actually do with her. Now the former WWE NXT Women's Champion is ready to take on Asuka at WrestleMania 37 for the Raw Women's Title. A win could certainly put her in the history books while she could also see an old enemy of her joining the mainstay scene.
WWE Star Io Shirai Celebrated Major Milestone
Bryan Alvarez mentioned during a recent episode of Wrestling Observer Live that Io Shirai is presumably heading to the main roster, next. There's no update on how and which brand WWE may intend to use her but this decision could come after she lost WWE NXT Women's Championship to Raquel Gonzalez during NXT TakeOver: Stand & Deliver Night I main event match.
Io Shirai received a farewell from WWE NXT crowd at TakeOver
Io Shirai received a standing ovation after the latest TakeOver match as Night One of the event went off the air. WWE released post-show footage from the Capitol Wrestling Center where the crowd was cheering for Shirai after the show ended. Shirai did a bow for the crowd and thanked them in the middle of a "thank you Io!" chant. This was a genuine indication that her time at WWE NXT has come to an end. This could also be the reason why WWE ended her 305-day title reign.
In recent times, every former WWE NXT Women's Champion had headed to the main roster after losing the belt while the NXT world title-holders like Adam Cole, Tomasso Ciampa, and Johnny Gargano have all stayed under the same banner.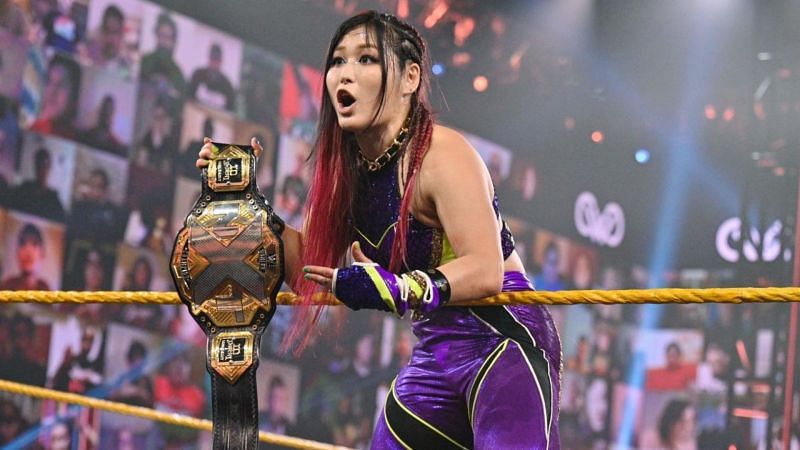 During the post-TakeOver media call Triple H was asked whether Io Shirai is heading for a main roster call-up. The Game clearly mentioned that it depends on the genius of the skies on what she does, next.
"Io Shirai has earned the right to do what she wants to do," Triple H said. "To me, if Io Shirai wants to take time off, she takes time off. If she wants to come back and go after Raquel Gonzalez, she's earned that right. If she wants to do something else for a bit, or any of that, she's earned the right to do all of it.
It's an interesting thing here where whenever somebody loses in NXT, they're so dominant, they're so big, they're so whatever. They have this incredible run. Then, all of a sudden, there's a bump in the road."