There's been a lot of murmuring for Ronda Rousey's WWE return which is yet to happen. No confirmed update is available on the comeback, either except for some rumors. If and when the WWE fans will be fully allowed to the programming, chances are higher that WWE would give a call-up. In the meantime, she has dished out on the potential return in a recent interview.
The Former RAW Women's Champion appeared on a recent episode of Table Talk co-hosted by WWE Hall of Famer and WWE Producer D-Von Dudley. During the episode, she talked about a myriad of topics including MMA and professional wrestling. The main difference Ronda Rousey pointed out was the unpredictability of pro-wrestling, all the time.
Revealed: When Triple H's Contract As A WWE Talent Ends?
It should be noted that Ronda Rousey's original WWE contract has already expired but WWE President and Chief Revenue Officer Nick Khan has recently noted that she is slated for a sooner come back along with Becky Lynch. When D-Von asked her about that impending return, she seemed quite uncertain about that. Later, the Baddest Woman on the Planet had a ton of praise for D-Von who would love to produce one of her matches in the future.
"I don't know. When I feel like it," Ronda Rousey said. "Eventually, when I feel like. I don't know."
"You're an amazing teacher, and you have so much to offer," Rousey expressed. "I know you have so much to offer as talent as well, but I think you have so much more to offer as a teacher than you give yourself credit for. It's very cool to see [you] teaching your sons. I can't wait until I get the opportunity to talk all of your advice directly as a producer."
Update On Roman Reigns Retaining WWE Universal Title At Wrestlemania 37
Ronda Rousey noted on future opponents in WWE
Showing up in WWE at Royal Rumble 2018, Ronda Rousey had a tremendous run in the company till WrestleMania 35. She primarily involved in RAW episodes alongside some live events to work with the talents available on the red brand. During this conversation, she noted the opponents she had the best in-ring chemistry with while she also named some dream opponents she would like to face when she would eventually be back.
"Given the fact that we never worked together before and that we had a day and a half to put the whole thing together, I really think me and Charlotte had a lot of great chemistry, but Nattie (Natalya), we had less time. That was my first match ever on the fly, and I was literally crying in the match because I was so afraid," Ronda Rousey recalled. "We just made it a part of the story. The fact that we were able to make the match as we went along, I think we really had a special kind of chemistry. I would really love to have a match that we really didn't prepare for.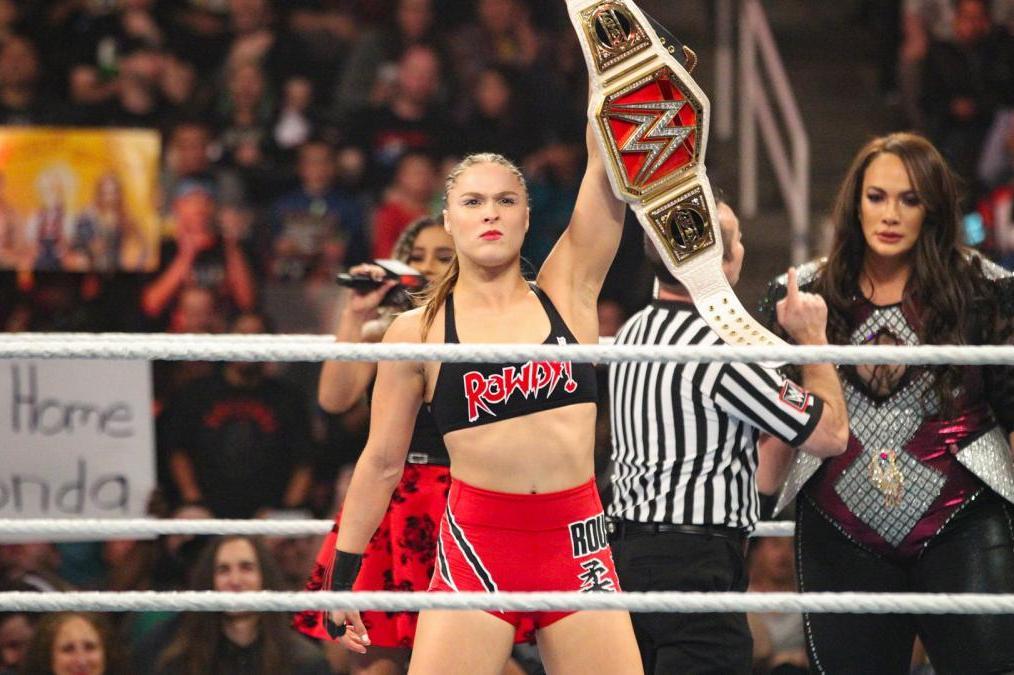 One person that I'm capable of doing the most with is Nia [Jax] because she's really really strong. I don't have to worry about hurting her. I feel like I've had some great matches with her. My first singles was with her. We've also gone through that storyline already. We've done all that we could. I really like having someone really strong that I can work with that I can use as a base but can also base of me. I would really love to work with Rhea Ripley." (Quotes courtesy Wrestling Inc)
The final time we have seen Ronda Rousey performing in a ring was at WrestleMania 35 where she unsuccessfully defended the Raw Women's Championship in a Triple Threat also featuring Charlotte Flair and Becky Lynch. She reportedly headed for an impregnation vacation, afterward but there's still no update on whether she's expecting a baby. Rather, she has been spotted in training sessions, recently to make a professional wrestling return, someday.