Lana and her husband Rusev (now known as Miro) are no more with the WWE and hence they needn't be extra careful about going vulgar on social media. Miro is currently under contract with All Elite Wrestling, a company that gives unlimited freedom to their talents. Miro is happy with his position in the company as the reigning TNT Champion and so is her wife.
AEW Superstar Eddie Kingston (Miro's opponent for All out PPV) cut a promo on AEW Rampage that caused AEW to drop a new t-shirt when a line-filled profanity went viral. "Redeem Deez Nuts" t-shirts are now available on AEW's official shop thanks to that promo, and Lana couldn't help but notice it. She also had an interesting reaction to it.
Lana Promises To Love WWE Star Liv Morgan More Than Ever In Bikini Photos
Miro was able to retain his AEW TNT Title against Eddie Kingston at All Out. After winning that match, the God's Favorite Champion sent out a tweet to make a statement, "Ask and you shall receive. Your nuts have been redeemed."
Lana saw her husband's tweet and decided to send out a reply for everyone to see. "I'll redeem yours when you get home," was her response which should have been more than enough to excite Miro.
Ex WWE Star Lana Shows Off Her Hot 'Night Dressy' Look On Instagram
Ask and you shall receive. Your nuts have been redeemed.

— Miro (@ToBeMiro) September 6, 2021
I'll redeem yours when you get home https://t.co/Tl78ix3Yx7

— CJ "Lana" Perry (@TheCJPerry) September 6, 2021
Lana and Rusev do have a history of vulgarity
The superstar with the real name CJ Perry definitely knew what she was telling and what she really meant by it. The thing is that she didn't have to be concerned with that statement as she is no more with the WWE. No consequences will be waiting for her for that adultery tweet.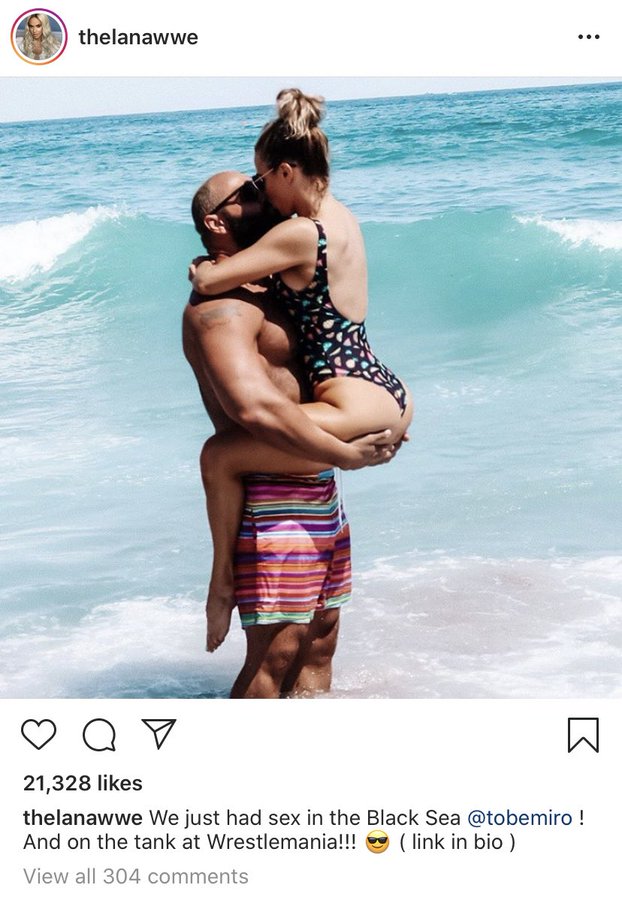 Lana and Miro are not new to doing controversial acts in or outside the ring. During an episode of Total Divas in the past, they were indulged in showing off on a beach which led them to the dog-house of the WWE. Last year, Instagram also removed a cozy photo of the couple due to vulgarity and they weren't happy about it.
Lana is over with the mandatory 90-day no-compete clause serving with the WWE as she waits for a big signing in the future. Miro is pushing AEW to sign her but there's no confirmed update on whether it'd be happening. For now, she will be making indie appearances, only.