Trish Stratus, one of the all-time greats in WWE history is set to make a return to WWE within four weeks from now. The legendary female wrestler has been confirmed to appear in an upcoming WWE live event, where the fans in attendance would see her in person. As of now, it's been let known that her role on that night would be the host for the evening.
As noted, Trish Stratus is confirmed to appear at the upcoming show in Toronto, Ontario Canada on Wednesday, December 29th. The event is scheduled to take place at the Coca-Cola Coliseum. It seems like that her return to the company will be a one-night-only deal to move out the tickets, quickly which are still being available for the night. This is her hometown and her appearance would be a show-stealer.
WWE Raw: Roman Reigns And Seth Rollins Had A Rare Confrontation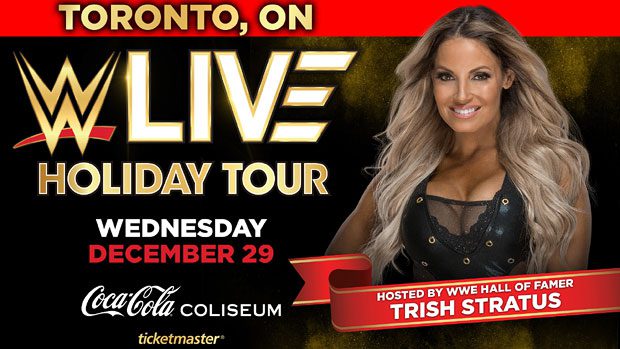 Following the announcement, Trish Stratus herself released a statement on TrishStratus.com. "Excited to step through that curtain and feel the energy of the WWE Universe one more time. Let's do this Toronto!" wrote the former seven-time Women's Champion.
Trish Stratus website promoted her next appearance
The website dedicated to the pioneer wrestler has also been promoting the upcoming appearance with the following lines,
See Trish Stratus during WWE's live holiday tour in Toronto,
"Trish Stratus is ready to serve some holiday Stratusfaction to the WWE Universe in Toronto.
The Hall of Famer returns for one night only to host WWE's live event on Wednesday, December 29th at the Coca-Cola Coliseum.Tickets and Superstar Experiences are on sale now!"
WWE NXT War Games 2021: Title Match Announced; New Updates
Trish Stratus was seen competing in a WWE ring at SummerSlam 2019 where she competed against Charlotte Flair in a dream match. This match appeared to be her final in-ring appearance as she was defeated by the current SmackDown Women's Champion in her hometown of Toronto.
However, the chances of her seeing her in one more match are still alive. In recent times, Trish Stratus has been going back and forth with Sasha Banks on social media as well as on interviews. The two women have teased a match and the WWE Hall Of Famer is more than willing to compete in that match if WWE comes up with a proper deal.