In sheer strength of the aura, no cricketer came close to Sachin Tendulkar, not even Sourav Ganguly or Rahul Dravid, until certain MS Dhoni started making news by winning all the right things in cricket. In marketing potential and in popularity charts, Dhoni still is the numero uno in India's sporting arena. Until his scales took a big dent with 3 disastrous overseas Test campaigns (2 in England and 1 in Australia), Dhoni ruled the roost and could still end up as India's greatest captain ever.
Captain Cool, as he is referred to, in the course of India's ODI series win against England recently, also became the country's most successful ODI captain. In win percentage, too, he leads the charts overall, although Ganguly gets the better of him in ODIs outside Asia. However, the interesting part is how there is a phenomenal difference in Ranchi lad's credentials as skipper in ODIs and Tests.
You could recount at least 5 reasons why he is touching the fringes of ODI captaincy greatness already but has work to do in Tests. A very prominent explanation is the team itself, the batsmen and bowlers that are more suited to ODIs than Tests. But we could dig deep into Dhoni's style and find more reasons as to why his ODI success doesn't translate into Test success.
5. His calm demeanour –
The cauldron of ODIs finds its perfect foil in Dhoni, who is so calm that you wonder if he is playing the same game on the same plane as others. He doesn't betray emotions often (unless you consider the way he slammed his bat into his pads after taking a risky single in the 2011 ODI World Cup). He doesn't shout at his players. He rarely looks angry. Whether in batting or in bowling, Dhoni protects his players from high pressure by soaking it himself.
In Tests, this advantage is knocked out because the format is, by nature, quiet. In fact, you need a chirpy, more animated, angrier captain who makes things happen or, at least, gives the impression that he can make things happen. Dhoni is in the Steve Waugh mold but, sadly, doesn't have the aggression of Glenn McGrath, Shane Warne and Jason Gillespie to be as successful. The calmness works for him in ODIs, but that sit-back-and-watch attitude brings about his downfall in Tests.
4. Fielding restrictions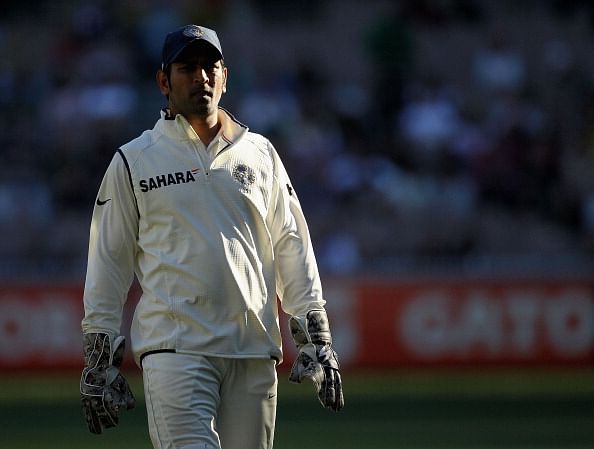 Dhoni has been accused often of being a ball-follower. In other words, he puts the fielder where the ball goes. Sometimes, he ends up doing it all day and, if the batsmen are cunning, they keep changing the directions where the ball goes. In ODIs, he knows his angles. He knows his fielders. He knows who can dive and cut the drive. He knows who can throw from the deep to prevent a second run. He knows who cannot chase the ball to turn a boundary into 3 runs.
In ODIs, the rules make it easy for him. The rules tell him exactly how many fielders are allowed to cut the boundaries, how many can be used to take specialist catches and how many are then left to save the singles. Once he has that info, no one knows maneuvering them better than Dhoni. In Tests, he is all on his own. He is not sure if he needs 4 slips and a gully or 2 slips and a third man. That makes him a vulnerable captain, since he lacks the killing certainty that he has in Tests; the certainty that allows him to play on the opposition's minds and effect things when nothing is happening.
3. Instinct calls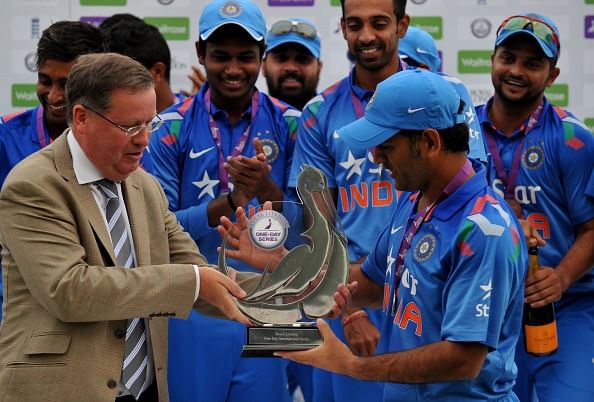 There is a reason why Dhoni has every trophy that could be won in the shorter formats of the game. Every trophy, worth mentioning. Not even the great Steve Waugh could boast of that or, even, Ricky Ponting, who inherited the 'Invincibles' without having to build them like Allan Border or Imran Khan had to. Dhoni is such a good captain in ODIs, because he bamboozles the opponents with unpredictable moves.
In other words, he puts himself in their shoes and gives them something to handle that they were not, otherwise, planning to. He always has a surprise up his sleeve. But such is the nature of Test cricket that perseverance and endurance weigh a lot more than surprise, because time is rarely a factor while building innings in Tests.
In Test matches, having a short mid-on breathing down upon the non-striker could be as close to surprise-element as a captain can get. Not so in ODIs. While, in Tests, you need to have the patience to persist with your 3 slips an entire day sometimes, you can move that second catcher from leg-slip to short extra cover to short-leg to a short-gully or about anywhere he wants to just to confuse the batsmen in ODIs. In fact, in terms of stats, Dhoni has a great winning percentage amongst all captains leading their sides in more than 100 ODIs, phenomenal in itself. It is a shame that people consider ODIs in Asia and outside Asia as different benchmarks, as it is unfair, given the platter of bowlers Dhoni usually has to work with.
2. Bowlers
Dhoni's biggest strength has been his spinners. He is a better captain in ODIs than in Tests because, in an one day game, 10 overs for 40 runs is worth its weight in gold. In Tests, the same is not true. It is wickets that matter more. Dhoni wins so tremendously in the sub-continent, as he gets wickets from his spinners. He becomes a tiger on the prowl when the pitch is offering a little turn and his spinners are delivering. In ODIs, he has coaxed wickets out of unlikely candidates – Rohit Sharma, Suresh Raina, Ambati Rayudu, Yuvraj Singh, to name a few. When Ravindra Jadeja or Ravichandran Ashwin fail to get him wickets in the whites, his fangs lose their venom.
Similarly, his pacers, prominent among them being Bhuvneshwar Kumar, Praveen Kumar, Munaf Patel, Zaheer Khan, Ashish Nehra and Ishant Sharma, fall in an interesting pattern. They are capable of giving him tight overs when in a good rhythm, which works in his favor in ODIs but not in Tests. Barring Ishant and Zaheer to a certain extent, no bowler has given him bursts of wickets in a single spell, which makes him a much weaker captain in Tests, especially outside India. After all, if the great Imran proved something, it was that you, as a captain, are just as good as your best bowler is.
1. Percentages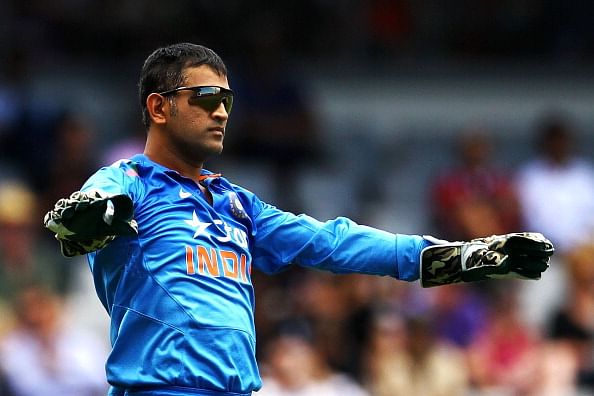 Dhoni is the master of the percentage game. He is not a high-risk gambler, and yet he is not conservative by any stretch of the imagination. Nevertheless, what works for him in ODIs is exactly what fails him in the Tests: a gut instinct based largely on percentages.
Push the point deep and save a boundary: that helps him in ODIs and that is exactly what makes him a defensive captain in Tests. In ODIs, Dhoni's percentage captaincy has a major aid: scoreboard pressure that helps him squeeze in the opponent slowly like an anaconda until they choke. The same doesn't work in Tests, because, unlike in ODIs, even a single to deep-point in an over relieves the pressure and works in the batsman's favour. Dhoni is a calculated risk-taker.