The misunderstanding over the optical illusion which caused disappointment among the Indian fans has been debunked. The photo analysis shows Australia skipper Steven Smith was indeed in pain when he held his shoulder after taking Virat Kohli's catch on Day 3 of the third Test in Ranchi.
Kohli, who injured his right shoulder while diving in the field on Day 1, nicked one behind to Smith off Josh Hazlewood in the second session and as the batsman turned to walk back to the dressing room, Smith and the Australians celebrated the all-important wicket.
However, a zoomed in picture showed Smith's right hand holding his left shoulder which made fans believe the Australian skipper was mocking Kohli. However, upon later inspection, it was revealed Smith was only celebrating the wicket with gully fielder Peter Handscomb.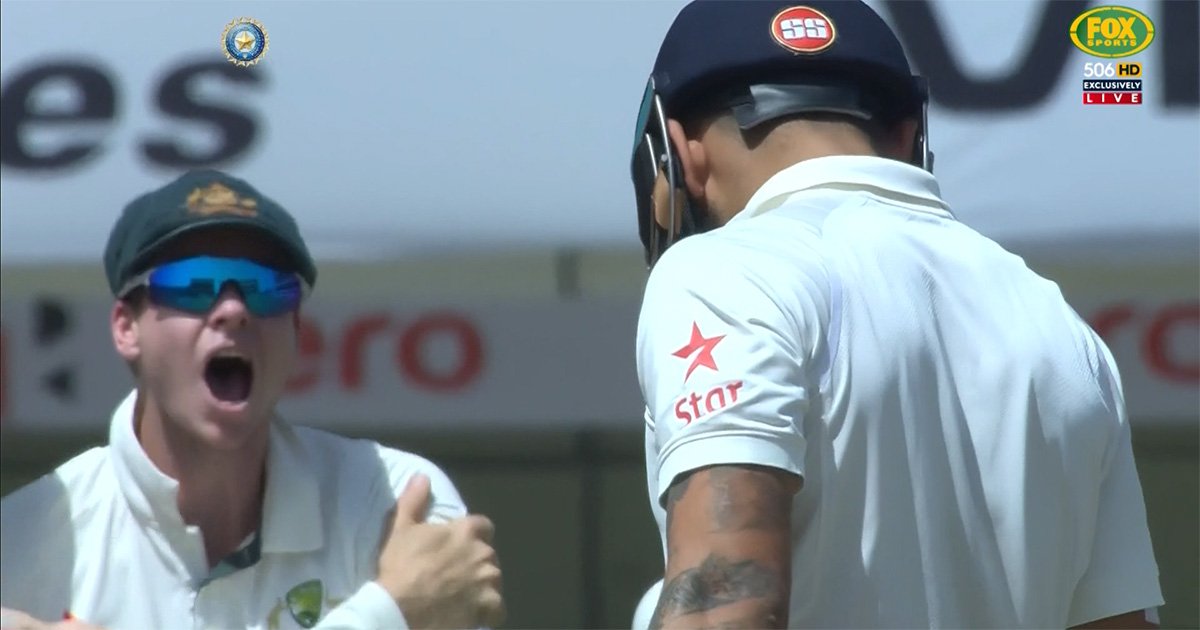 Earlier, Indian commentators and social media people were not amused watching Steven Smith grab his shoulder with a grimacing face. Former India batsman VVS Laxman termed the actions as "disappointing."
"I understand that there is history behind both these teams, these players," Laxman said on Star Sports.

But mocking someone who is injured, Glenn Maxwell, and Steve Smith, what example is he setting to his team? That's very disappointing. You can sledge, if you want to play the hard way it's fine but not mocking someone who is injured, in pain."
Aakash Chopra, who is also a part of the commentary team, said the players should not let the misunderstandings caused by the rivalry get inside each other's head.
"It's not OK to mock (Kohli). Not that Indians have never done it in the past, I remember Shikhar Dhawan mocking Shane Watson, I think the game was in Canberra. That was not on. This is also not on.

"Yes, there is a certain amount of animosity or rivalry, and it's been flared up quite a bit between Virat Kohli and Steve Smith, but you must need to know where to draw the line and some amount of blame even Virat must take, because the moment the DRS happened he was out here clapping.

"These are things that can be avoided. The idea should be to douse the fire, rather than just adding fuel to the fire. This is adding fuel."
But now everything seems to be crystal clear. The fire has been doused and the game is progressing in the best way possible.