KERALA BLASTERS 0 – 1 CHENNAIYIN FC

Bruno Pelissari 87′
Bruno Pelissari's goal in the 87th minute won the game for Chennaiyin FC against Kerala Blasters in the Jawahar Lal Nehru stadium in Kochi. The attendance for the game is 61,323.
With two matches remaining, Chennaiyin FC is the first team to have booked their place into the semi-final as they are five points clear at the top of the Indian Super League points table. Chennaiyin FC have 22 points from 12 games and are five points clear of second placed Atletico de Kolkata. Kerala Blasters are still on fourth place in the table with 15 points from 12 games.
Chennaiyin FC is the only team who have not lost at home and this is Kerala Blasters first loss at home, Kerala have only conceded two goals now in their five home games so far.
The last time these two teams met Chennai came out victorious with a 2-1 scoreline. Both sides came into this game on the back of 3-0 defeats.
Kerala Blasters made five changes from the previous game as Milagres, Falvey, Avinabo, Sabeeth, Hume and McAllister replaced Gusmao, Barisic, Ahmed, Godwin, Saumik and Hengbart.
Chennaiyin FC have replaced Maurice and Pelissari with Silvestre and Cristian. Chennai missed their star player Elano Blumer, the highest goal scorer with eight goals with an injury.
Chennaiyin FC started the match on a high but Kerala pulled back things as the game progressed. David James had to be substituted early in the game as he seemed to have pulled a muscle. He left the pitch and has been substituted by Sandip Nandy.
Chennaiyin forward Balwant Singh got many chances but he fails to convert them into goals. He has lost possession every now and then. It had been a below par performance from the youngster.
Both Chennai and Kerala Blasters have had their chances but none have been able to convert them into goals in the first half of the game.
Chennaiyin FC lead the attack index at the half time with 65% to Kerala's 35%.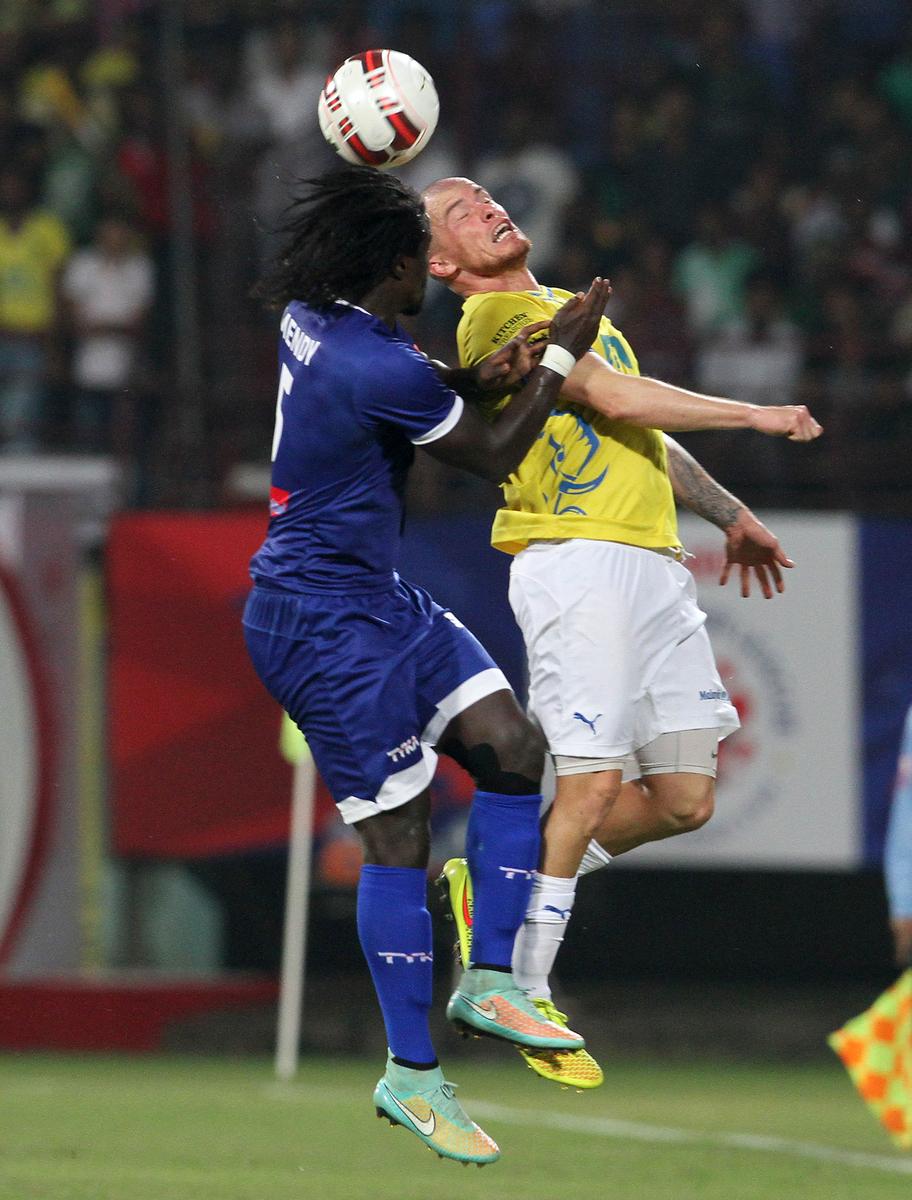 Best chance of the game came at the start of second half. Stephen Pearson passes the ball for C S Sabeeth who plays a good through ball to Iain Hume, but Hume hits it across the face of the goal and the ball goes wide of the post.
Avinabo Bag got subsituted for Pedro Gusmao in 63rd minute. Jamie McAllister and Cristian had been substituted for Nirmal Chettri and Bruno Pelissari respectively in the 75th minute of the match.
The winner finally came in the 87th minute through sheer brilliance of Bruno Pelissari for Chenniyin FC. Pelissari ran with the ball from his own half into the other half, he had the support but the Brazilian trusted none but himself as he takes a touch behind and places it in the left top corner with his left foot.
Man Of The Match: Bernard Mendy
Picture Courtesy: Indian Super League