Liverpool and England striker, Daniel Sturridge has suffered yet another injury setback in his pursuit to regain fitness. The Liverpool forward broke down in training and has injured his thigh, yet again.
Sturridge had only returned to training last week after picking up a calf strain while at Liverpool in October, earlier he had suffered a thigh strain under International duty for England in September. When he injured his thigh the first time around, there was a war of words between Liverpool manager and England manager Roy Hodgson about how players need to be treated and rested differently.
Sturridge has only played 3 premier league games this season and his movement and finishing has been missed by Liverpool this season. The Englishman had scored 25 goals last season as Liverpool came second in the premier league and he was the second highest scorer behind then teammate Luis Suarez who has since left to join up with Messi and Neymar at Barcelona.
The full extent of the injury to Sturridge will be revealed when the striker undergoes scans today and that will be a huge cause of concern for Liverpool who have only scored 14 times in the 11 league games this season having won only 4 out of the 11. They currently sit in 11th place and are well behind leaders Chelsea.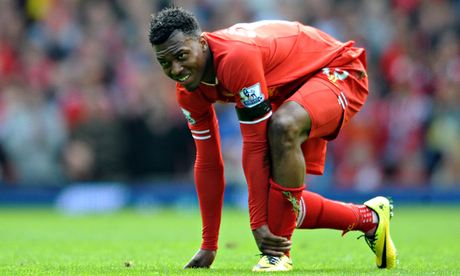 The more concerning part would be the form of the other strikers at Liverpool with old boy Fabio Borini and new summer recruits Rickie Lambert and Mario Balotelli failing to find the back of the net in the 14 games this season, the strikers have not scored once in over 1000 minutes.
Balotelli also picked up a slight knock in the recent international break and has tweaked his hamstring; he will be a major doubt for the trip to Crystal Palace on the 23rd of November.
Rodgers has been under immense pressure for the past few weeks and with his striking options dwindling or not being in form, he may end up recalling the Belgian striker Divock Origi early from a loan spell at French Club Lille.
Origi had earlier expressed his desire to join up with the Liverpool team in the January transfer window but that deal can only take place if his loan club, Lille, agree to the transfer. His loan deal ends in June 2015.
A more pressing issue would be how the Liverpool medical staff have been dealing with Sturridge's injury, the Englishman has a history of being injured but every time he has been close to full recovery, he has broken down.
Picture courtesy: The Telegraph and The Guardian