Alexa Bliss has had to deal with a disturbing issue for the past few days where an obsessed fan of her logging into Twitter to harass her. The handle called "Albert Little 666" has constantly been sending disturbing tweets, one by one. The internet jumped into some sort of investigation to find out the actual identity of the fan and it seems they've uncovered it.
A man from Whitehall, New York named Bobby has been identified to be the man behind these disgusting tweets, it seems. While this man was confirmed to be the one behind the tweets directed to Alexa Bliss, it was never proved that the harasser actually traveled to Orlando, Florida which was implied by his recent tweets to become an apparent threat.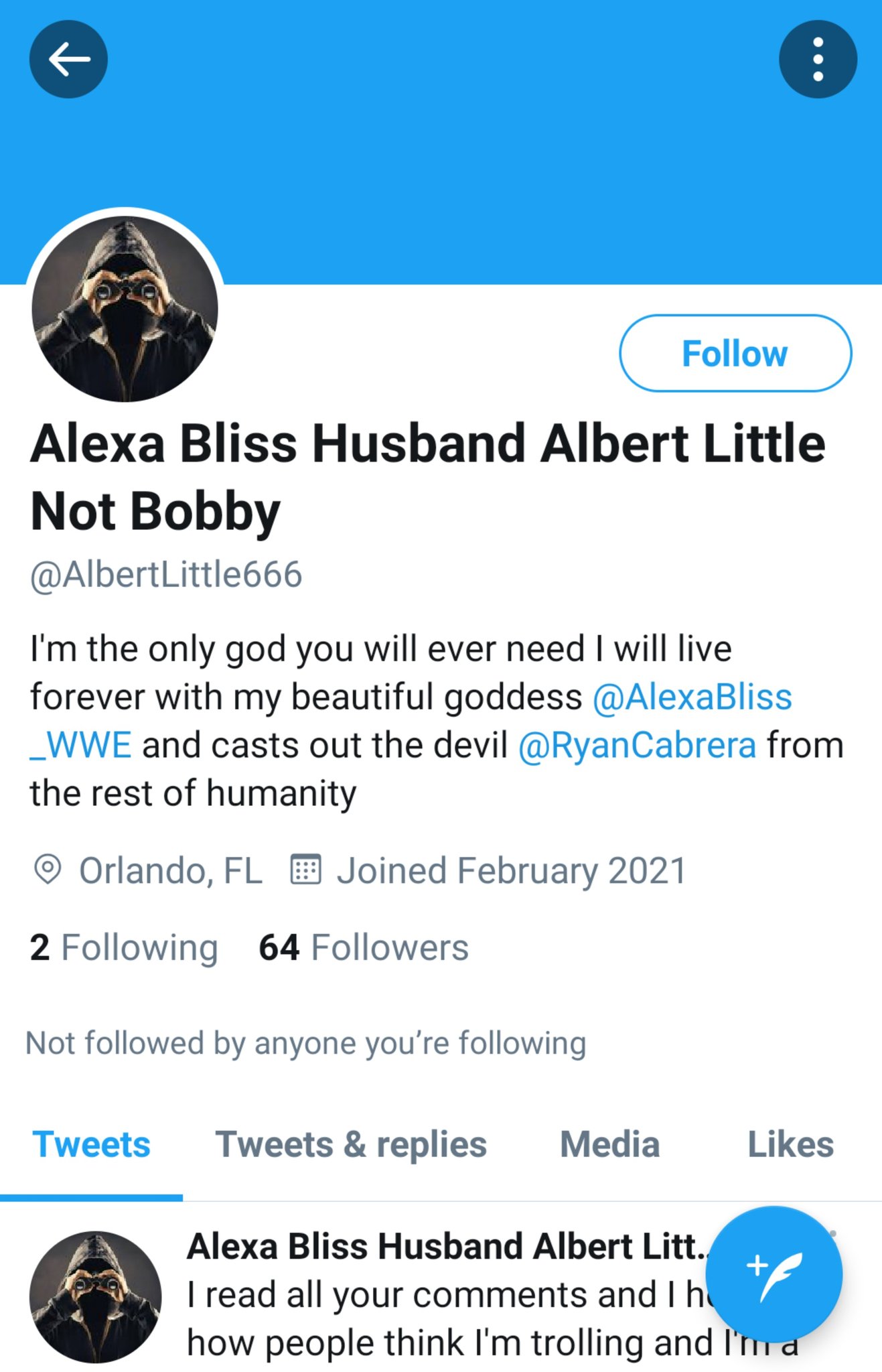 The well-wishers of Alexa Bliss were able to identify the rogue fan by cross-referencing posts from an older Twitter account he used to send similar kinds of messages to The Goddess and her fiancée Ryan Cabrera. That old account was still connected to his name.
Alexa Bliss' stalker is following her online for quite sometimes
That old Twitter account had several tweets about Alexa Bliss those were no less than about the harassing messages from the Albert Little 666 account. An Instagram account was also searched by the fans who belong to the same person. That Instagram account follows 270 accounts as of this writing, and 46 of those accounts are Alexa Bliss related. (Info credit Ringside News)
During this past summer, this Twitter account sent several tweets to Alexa Bliss calling Cabrera a cheater, the same allegations that he has recently done. It was done so many times that some fans actually called him out as he replied with the same message on multiple posts.
The Albert Little 666 account's name had also been, "Alexa Bliss Husband Albert Little Not Bobby" for a period of time before it was altered and any reference to Bobby was removed. No police action has been taken against this account, to date as we hope the obsessed fan stops chasing the former Raw Women's Champion.
He makes me laugh … often 🤍 pic.twitter.com/uEHDRkGo0m

— Lexi (Kaufman) Cabrera (@AlexaBliss_WWE) June 25, 2020
We have uncovered the identity of @AlbertLittle666 😏 pic.twitter.com/77a0VmlQZn

— Ringside News (@ringsidenews_) February 11, 2021
The Albert Little 666 Twitter account remained silent for twelve hours as Twitter blocked him. The obsessed fan himself tweeted out the same to let people know about being restricted for sometimes,
"Hey everyone I was restricted from twitter for 12 hours. I will try to be more subtle with my tweets. You guys have the wrong guy and you will never find me. Alexa bliss is my wife and you fans have to just face that facts. I'm not going anywhere stay tune you don't want miss it."