Indian Olympic bronze medalist boxer Vijender Singh won the Asia Pacific  Middleweight boxing title defeating Kerry Hope of Australia at Thyagaraj Sports Complex, New Delhi on Saturday, 16 July 2016.
Vijender  has earned a name and popularity in his home country after he gave India bronze medal in the Olympic and gold medal in the Asian Games. The Haryana boxer turned professional in 2015. He has so far defeated opponents in six consecutive matches in the ring in England and finally he realised his dream in his home country in front for his fans for the seventh consecutive time.
His Asia Pacific Middleweight Championship victory came at home where Indian boxing fans cheered him. It was a full house at the Thyagraj Sports Complex. Indians sports fans are not much familiar with professional boxing but over the years they have shown great interest in boxing.
Often the WWE greats come in India to entertain the Indian fans. It is clear that India has a market for every sport, but need a marketer who can sell the game.
Before Vijender's fight, the Thyagraj Sports Complex's every corner was brimmed with enthusiastic boxing fans. When Vijender was punching at the face of Hope the entire arena was cheering him like Indian fans do for their favourite team-  Men in Blue.
In a nation where cricket is the most powerful game and supported by millions of Indian fans and has a governing body which earns billions of rupees per annum has no competitor.  However, considering the giant market every sport is trying their bid to find a market in India. Indian Super League (ISL) football is gradually finding a space in the country amidst cricket's popularity. And more importantly, there are fans who don't even watch cricket as they are too obsessed with football.
In cricket, only a few special series like Ashes create great excitement among the fans cutting across the borders. But when India play it doesn't matter for the fans who are the opponents, they blindly follow the game. Even more so since the economic liberation in 1991, the business of cricket boomed rapidly, but nobody dares to bring the other games in India fearing that they will be walloped by cricket crazy nation. But after the 2008 IPL, which has become a hit in the first year and earned billions of rupees for the BCCI. Literally, it has become a money bank for the BCCI. Observing the success of IPL other cricket nations also introduced franchise based T20 leagues in their respective countries.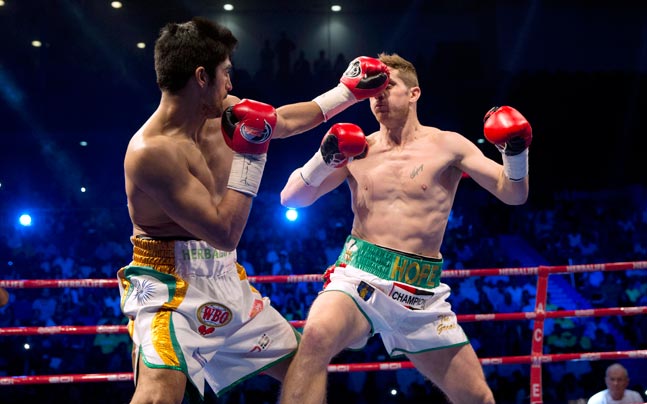 Vijender's left-handed jab at the temple of Kerry Hope is a display of former's skill
In India, IPL has given business tycoon a sports business lesson, so they are slowly and steadily bringing franchise based leagues in other sports. Among the other sports leagues, only Indian Badminton League is stopped, but International Premier Tennis League (IPTL), ISL, Indian Hockey League (IHL) are embraced by Indian fans that made the leagues a relative success.
So, a physical game, which proved that it can bring a new excitement to sports fans' life, no doubt will be a big business hit in India. Vijender Singh's left-handed punch and right handed jab are his beautiful of skills.
Professional boxing is all about the open bloody fight that gives blood rushing moments among the fans. The first professional boxing match in India proved that it has a great potential in terms of business.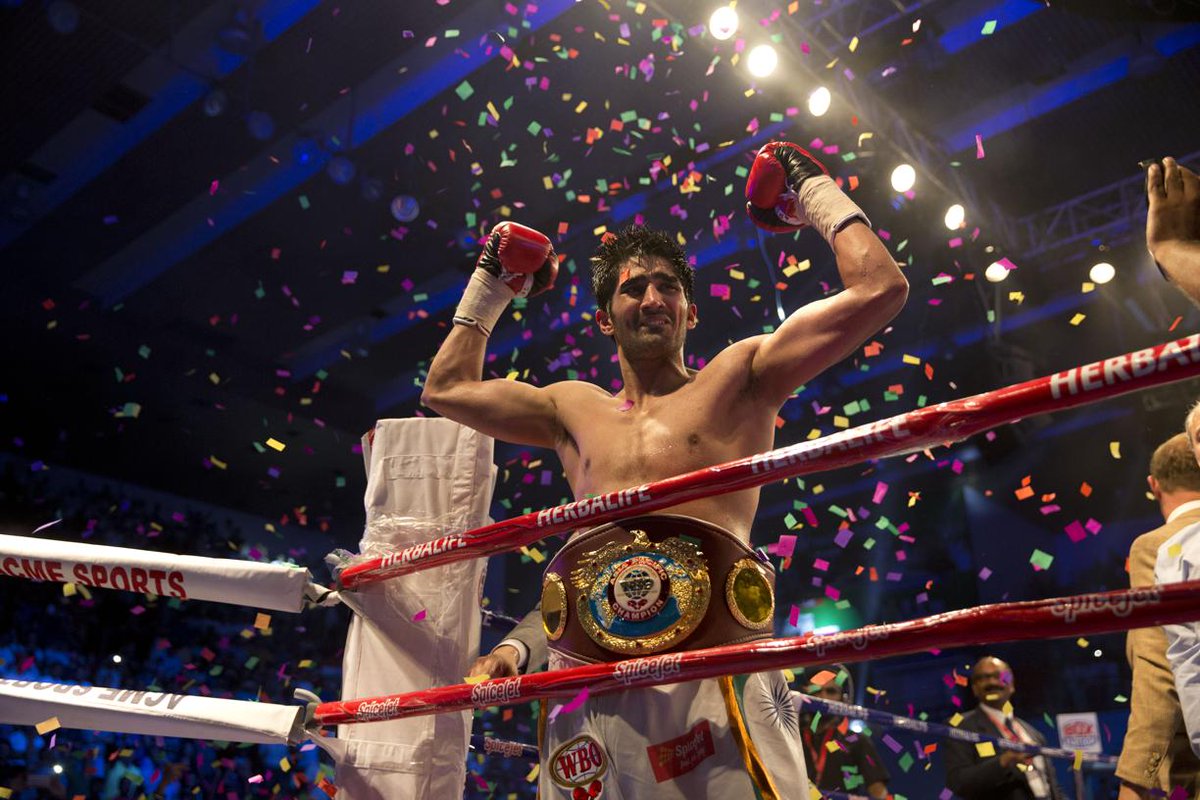 A glamorous image of Vijender Singh after he won the Asia Pacific Middleweight Championship.
And in India, there is no dearth of quality boxers who start their life as an amateur boxer and vie for the Olympic berth.  So a professional infrastructure in the country will also encourage the youngsters to take the sport more seriously as they will not have to be concerned about their future.
Boxing talents base
In the northern part of India, especially in Haryana and Punjab and in North East young guns love to play boxing, so a professional boxing infrastructure will encourage them. With this, a culture of boxing could be built in India.
In India, other sports carved a niche for themselves. But boxing is different from them. When other sports league failed to manage the quality; boxing has indigenous talent base in India so both women and men professional boxing can exist along with India's most followed sports cricket. India got role model in Vijender Singh and five-time world champion and Olympic bronze medalist woman boxer Mary Com.
Vijender is popular, but more boxing matches in India and his success can make him a great sportsperson that will earn him an icon stature like current Indian Test captain Virat Kohli. Similarly, Mary Com, who highly respected women sportswomen, enjoys more popularity than any women cricketer in India.  It will not be staggering to say that Mary Com enjoys more popularity than Indian women team captain Mitali Raj because boxing has glamour.
Boxing is also a less time-consuming sport so it suits the schedule of office goers. An hour in the evening will bring excitement to your life after a day of hard work. So, boxing will be better sports for you than other sports, if you decide to bring excitement in your life. But having said that, it should avoid a scheduling clash with India's richest league.
Get the latest news and updates from Indian Premier League, ICC World Cup 2019, Match Prediction & Fantasy cricket. Follow SportzWiki for all cricket news, WWE News & Sports News.