Tammy Sytch aka former WWE Diva Sunny shot down the claims that she may have sold out her WWE Hall of Fame ring in order to collect some big amount of money.
Apparently, she was going through a tough time in the past decade and decided to put the ring on sale. It should be noted that WWE inducted Sunny into the most prestigious club present in sports entertainment in the year 2011 to give her the ultimate honor.
WWE Bombshell Zelina Vega Wishes To Manage Randy Orton; Drops Bikini Photos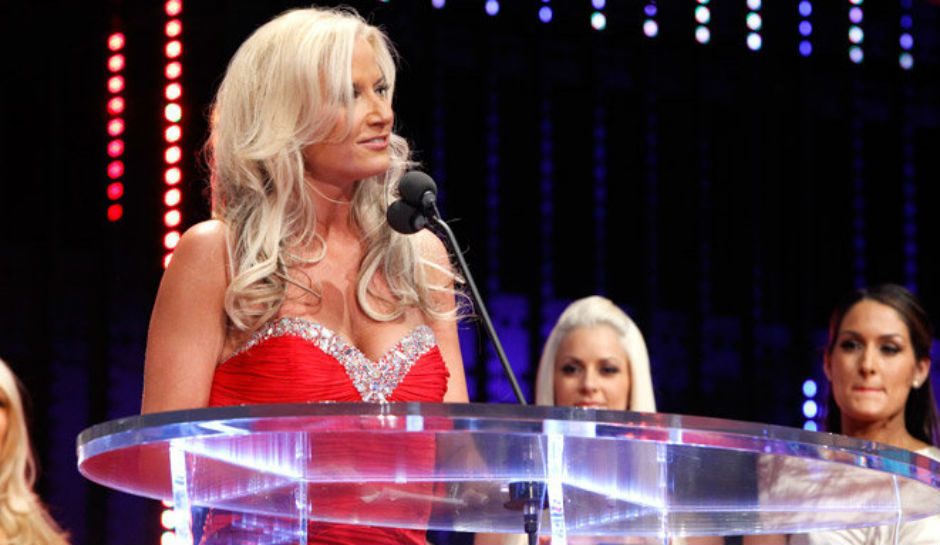 I don't know where you get your info from, but my HOF ring is on my dresser with my other jewelry.

— Tamara Sytch (@WWEHOFerSunny) April 26, 2020
But then rumors started flying claiming Sunny has sold the Hall of Fame ring, for good. The news first popped out in January 2016 after TMZ posted a story on it being sold, online. It also included a quote from Sunny which read the following,
"It's time to let go of the past and selling my ring is the right way to get back on track!"
Sunny took to Twitter this weekend and made several posts to dismiss those speculations on how she pawned the ring given to her after her 2011 induction. As seen in the article, Sunny also posted a shot of the ring on her middle finger.
HEY MOTHER FUCKERS AND KNOW-IT-ALLS!!!!! What about me "pawning" my Hall of Fame ring? Twatwaffles. pic.twitter.com/FQvn5mRVcf

— Tamara Sytch (@WWEHOFerSunny) April 26, 2020
WWE Star Nikki Bella Reveals How Breakup With John Cena Still Haunts Her
The original Diva then claimed on Twitter that the TMZ story was just a publicity stunt created by Vivid Video for her adult film that was released in 2016,
"Asshole it was a publicity stunt concocted by the owner of Vivid Video, and right after it I POSTED that it was ONLY a publicity stunt. Go do something with your life instead of trolling mine."
But it is to note that the TMZ story had no mention of her Vivid project that led Sunny into hot waters. Also, she reportedly wore the ring during scenes in the film. Here's more from wrestlingINC.com on Sunny's declaration that she's still in possession of that invaluable WWE Hall of Fame ring,
"The TMZ story from January 2016 noted that Sunny's ring was being put up for sale on eBay with an opening bid of $3,000. TMZ included two screenshots from eBay – one of the screen that the seller would see, one of the auction being canceled that bidders would see. This could actually prove Sunny's claim."
Update On First WWE Diva Sunny Getting Released From Jail
There are more rumors with Sunny and her Hall of Fame ring. Those informed that Sunny's ring featured on an episode of History's "Pawn Stars" series.
But then it was reported that it belonged to the late WWE Hall of Famer Paul Bearer. There's no word on how much it's true or not but Sunny continues to be one of those names who loves to lead a colorful life, as always.
Get the latest news and updates from Indian Premier League, ICC World Cup 2019, Match Prediction & Fantasy cricket. Follow SportzWiki for all cricket news, WWE News & Sports News.