Sanchez And Ozil's Stats Compared To Premier League's Other Top Duos
If Arsene Wenger is being scrutinised this much now with 18 months remaining on Mesut Ozil and Alexis Sanchez's Arsenal contracts, just imagine what it will be like if neither sign a new deal before next summer.
The Arsenal boss has faced question after question about the future of his two big stars this week and with every passing day, they seem to be linked with a new potential destination away from the Emirates.
It is the sort of speculation Arsenal fans have grown to despise but this time it has even greater significance given their fairly strong start to the season.
But what exactly would the Gunners be losing by letting either Ozil, Sanchez or even worse, both of them depart north London in the near future?
We've had a look at the key pairings in each of the Premier League's top four sides – with help of statistics provided by Squawka and WhoScored – and compared the influence Sanchez and Ozil have to their rivals' big stars.
ARSENAL – MESUT OZIL AND ALEXIS SANCHEZ
Goals scored: 15
Assists: 6
Key passes per game: 5.1
Chances created: 69
By Ozil's high standards, his key stats are arguably slightly lower than what the German would be expecting for this stage of the campaign.
Sanchez, however, is in the form of his life at the moment and looks well set to be one of the division's top scorers by the end of the season, with 11 goals under his belt already.
CHELSEA – DIEGO COSTA AND EDEN HAZARD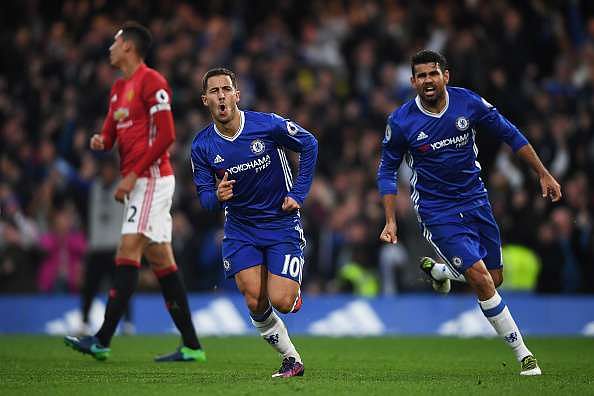 Goals scored: 19
Assists: 6
Key passes per game: 3.6
Chances created: 52
The Premier League's leaders' impressive run of nine straight wins has been, in part, down to the return to form of Costa and Hazard.
They've scored more goals than the Arsenal duo but have created fewer chances and also made fewer key passes per game.
Chelsea's more direct style of play is likely to have had quite an impact on those last two statistics, though.
LIVERPOOL – PHILIPPE COUTINHO AND ROBERTO FIRMINO
Goals scored: 10
Assists: 8
Key passes per game: 5.1
Chances created: 67
Liverpool fans were fearing the worst when Coutinho picked up a serious injury against Sunderland last month and these statistics show why.
Jurgen Klopp's Brazilian duo may be the lowest scoring pairing of the top four but they have created just two fewer chances than Ozil and Sanchez.
In such a free-scoring team, Firmino and Coutinho arguably have less responsibility than Ozil and Sanchez to provide the goods in every game.
MAN CITY – SERGIO AGUERO AND KEVIN DE BRUYNE
Goals scored: 12
Assists: 7
Key passes per game: 4.1
Chances created: 52
Despite both Man City stars missing various periods of the campaign through suspension and injury, they aren't too far behind their rivals in the top four, statistically speaking.
You'd have to expect De Bruyne to improve on his meagre goal tally of two so far meanwhile Aguero has been the most reliable poacher in the Premier League for a long time now.
Therefore, judging them solely on their influence this season would probably be bit harsh.
So there you have it Mr Wenger, letting Ozil and Sanchez leave Arsenal in the next 18 months would prove to be a grave mistake.
They could very well be asking for some of the highest wages in the division but the pair probably deserve it.
Out of the four statistics that have been compared, the Gunners' stars were only beaten on goals by Chelsea and narrowly on assists to Man City and Liverpool.
But in truth, Wenger shouldn't even need to look at these stats to know the quality he currently has at his disposal and what he would be throwing away by accepting their demands.